Google Ads For
Pool Contractors
Clicks Geek is a U.S.-Based Google Ads agency focused on increasing sales and leads for pool contractors. We do this by driving quality traffic and delivering a superior landing page experience.
"Ed has invested thousands of painstaking hours into understanding the nuances of sales and marketing so his customers can prosper. He's a true professional in every sense of the word and someone I look to when I need advice."
Generating More Fencing Clients For Your Business
These days, it isn't enough to provide the best service or simply offer a competitive rate. As in every other industry, pool builders need to take steps to digitally market their businesses to bring in leads for potential clients.
Even if you're an experienced pool builder accustomed to drumming up jobs from ads in newsletters and word-of-mouth advertising through clients or real estate brokers, you may have noticed that leads are increasingly coming from online referrals.
You can find many ways to make sure potential customers notice your listing when searching for "pool builders" online. One phenomenal way to market your business is to buy Google Ads.
Don't let your company's website get buried underneath your competing companies' listings in search engine results. 
Read on for a few tricks you can use to effectively run an advertising campaign to market your service business.
With the right strategy, Google Ads allows pool contractors to connect in real-time with prospective clients looking for their services. You only pay when people click on your ad, which can direct visitors to your site or landing page, where you can encourage them to set up a consultation or generate a call to visit your site.
Ed's advice, information, and techniques have helped my business not only STAY OPEN these last few years, but GROW with consistency.
Take your business to the next level with a PPC agency that actually delivers.
How Can Google Ads Help My Pool Business?
Google Ads (aka Google AdWords before 2018) promotes your business when prospective clients search the internet for the types of service you provide.
Successful ad campaigns on Google Ads require:
Keyword Search Phrases

Use language that will entice a search engine user

Promote Business Through Keywords

Employ keywords that will promote your business to customers looking for the specific service you provide

Avoid Negative Keywords

Avoid so-called negative keywords so that you only target customers looking for your areas of expertise

Ad Strategies

Work efficiently through strategies like pay-per-click ads to deliver a solid return on your investment
The guys at Clicks Geek are SEM experts and some of the most knowledgeable marketers on the planet. They are obviously well studied and I often wonder from where and how long it took them to learn all this stuff. They're leap years ahead of the competition and can make any industry profitable with their techniques, not just the software industry. They are legitimate and honest and I recommend him highly.
Think Like a Prospective Customer
The typical internet searcher probably doesn't know as much about the pool and spa industry as you do. If your pool and landscape company has won awards or received rave reviews in PSN, it might be worthwhile to emphasize them in the precious little ad space you have, advises Nate Traylor of Pool and Spa News (PSN). Once you've hooked a potential client with an eye-catching ad, direct them to one of your landing pages.
Send Customers to Your Landing Page(s)
You don't want prospective clients to have to search your website for the information they need. You can identify keywords so that results from a specific search go take searchers who click on your listing to different landing pages related to the information they are looking for.
That means that you can set it up so that an ad targeting people looking for a "bargain on pools" can send them straight to your Discounts page, while a search for "above-ground pool businesses" will lead right to your page about those types of services you provide. If you take care of landscapes and spas as well as pools, you can toss in a few key terms such as landscape, landscaping, spa, and spas to your Google Ads campaign.
Remember to include contact information on your landing page so that people don't have to leave it to search around for your company's email or phone numbers.
It's a good idea to check your website for search engine optimization, or SEO, so your landing page shows up at the top of search results whether you're running an ad campaign or not. Without solid optimization, internet users may find your competitors' websites before they come to yours – if they visit yours at all.
If your contractors specialize in some particular type of pool service, think of specific advertisement keywords you can use in your Google Ads campaign.
Doing so not only directs people to your company site, but it also improves your Quality Score. This is a number Google uses to determine which ads get featured most prominently. The highest bidder doesn't always wind up on top of search results if another ad does a better job addressing the specific results a searcher is after.
You can also use Google Ads to single out search terms that name the exact towns, cities, and neighborhoods in which you provide pool service. If your Google Places account locates your company in one location but you cover additional territories, your Google Ads score will suffer unless you note all your territories.
Be Careful With Negative Keywords
Using some negative keywords (i.e., terms to exclude you from search listings) is another way companies can improve their scores. For example, pool builders that only construct in-ground pools would treat "above-ground pool service" as negative words.
Using negative terms saves time and money by excluding your company from showing up in some searches for products and services your company doesn't provide. This lets you focus on prospective leads that can actually turn into clients, and it saves you money since it keeps those people from clicking on your ad for no reason.
Invest in PPC: Pay-Per-Click Advertising
A PPC ad is a smart way to stretch your marketing budget. PPC campaigns operate on a cost-per-click pricing format, meaning that you spend money on ads that help your company generate leads. You can also set limits so that you don't overspend or get too swamped with phone calls.
Keep an eye on your PPC ad campaigns to look for ways to tweak your formula to increase your conversion rate and ensure that the folks who check out your Google Ads wind up contracting with you.
Find Out If Your Territory Is Still Available.
See what our
happy clients
have to say.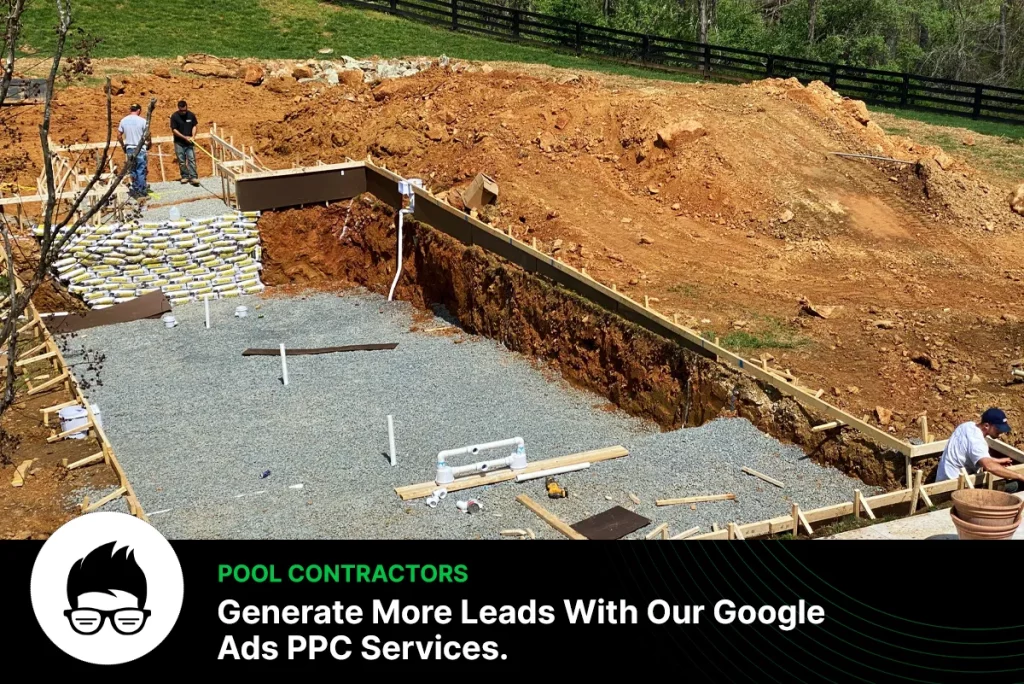 We're A Google Partner Agency
As a Google Partner Agency, we've joined the cream of the crop in PPC specialists. This designation is reserved for only a small fraction of Google Partners who have demonstrated a consistent track record of success.
Hire a Professional Marketing Firm
Google Ads campaigns can be tricky for business owners who aren't used to them, and it's all too easy to make mistakes. Luckily, the digital landscape today is filled with marketers who specialize in services related to Google Ads. But take care, since you may find snakes in that landscape as well – so do your homework and hire a true professional digital marketing firm.
Top marketers can help you avoid tumbling into common pitfalls. They can also advise on other marketing strategies, such as performing SEO work. An SEO plan is crucial to make your team stand out from your competitors. Speaking of your rivals, you may want to ask your marketing professional about geo-targeting tactics to further edge out the competition. You may have done some in-house marketing, such as setting up a Facebook page, but a professional can make your social media accounts shine and become lead-generating sources.
If you're having trouble using Google Ads to promote your company's services, or if you're new to the platform altogether, take this advice to heart – and your phone will be ringing off the hook in no time!
Find Out If Your Territory Is Still Available.
Tracking through analytics is an essential part of succeeding in your Google Ads campaign.
We'll track the results from your ads campaign diligently and use them to measure the effectiveness of your campaigns. We'll set up call tracking and contact form tracking down to the keyword level to enable us to optimize your campaigns and drive more inbound leads.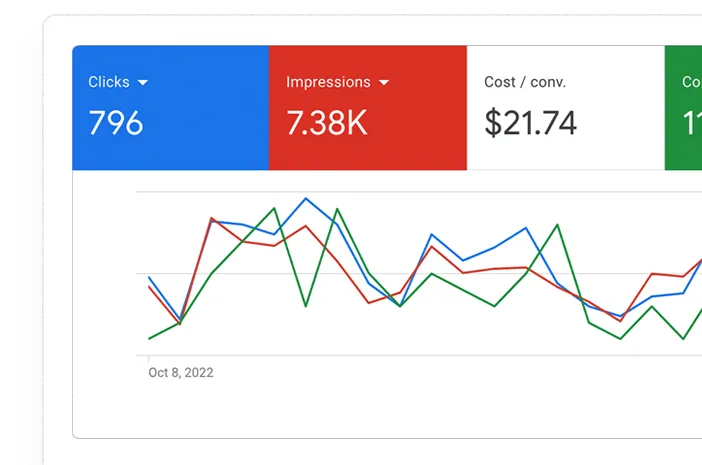 We offer unrivaled expertise and have a reputation for providing wildly successful results for our clients.
If you're in the pool industry, make the most of your marketing dollars. Contact us at Clicks Geek today to get started with Google Ads or to have our team analyze your current campaign. Have any questions? Our friendly team is always happy to answer them and offer guidance to implement the right swimming pool contractor marketing strategy.
Client Testimonial
Praise
Steven Cortez
Ed's a great dude! PPC expert all the way. I've had a couple phone calls with him. Very helpful and down to earth.
Max Reznich
I have Robert Salvatore saved in my phone as "PPC Whisperer" for a reason. The man can do things with a Google Ads campaign that I've never seen before. Thanks again brother.
Daniel Kichen
These guys are so awesome that even if they can't help you they will refer you to somebody who can. That doesn't happen often, good people.
Jeremy Bolton
Just wanted to give Ed Stapleton at Clicks Geek a recommendation if any of you guys are looking to outsource your google ads campaigns. Double my clients conversions within a month and now have a VERY happy client! Thanks Ed...
Stuart Trier
Ed & Rob over at Clicks Geek are great guys and do really good work. If you are looking for white label PPC management. They are honest and will tell you if they can't get you the results you are looking for... Highly endorse these guys.
Josh Nelson
I've heard nothing but good things about Ed Stapleton and his services... if you are looking for someone to help you manage your paid search campaigns he could be a great resource for you.