3X, 5X or Even 10X The Sales You Are Getting From
Google Ads
Take Your E-commerce Store to The Next Level. We Help Brands Scale & Grow Their Online Stores into The 7-8 Figure+ Range by Leveraging Google's Shopping Platform.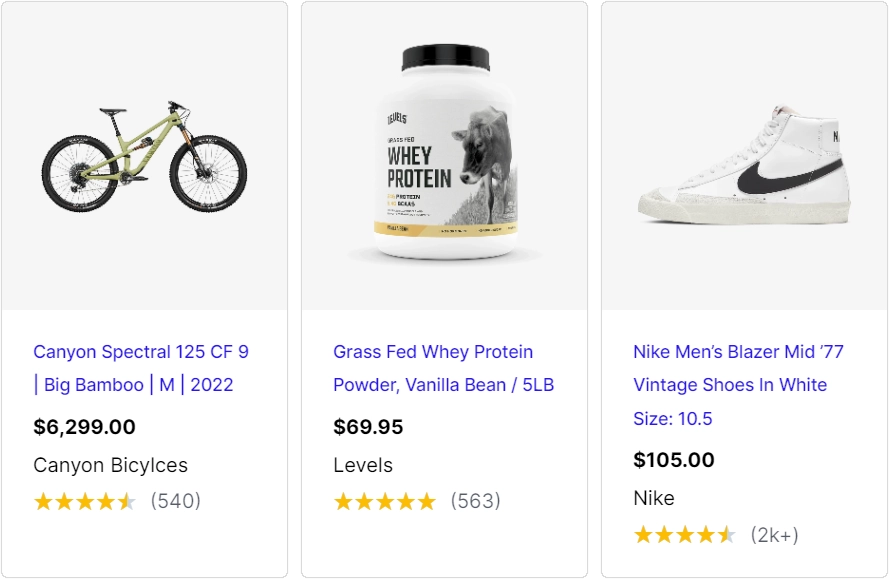 Get More Sales And Higher ROAS On Your Ads
Our team specializes in setting up custom tailored Google Shopping campaigns that drive new customer acquisition and improve return on ad spend (ROAS). We have extensive experience in the ecommerce industry and understand all the key metrics that need to be met in order for products to sell out. We use this knowledge to craft effective ecommerce ads that drive sales.
Sell More Products by Leveraging Google's Shopping Feed
Our team will conduct a thorough audit of your Google Ads account to identify any key opportunities for improvement in your campaigns strategy. Not currently running a Google Ads campaign? No problem! We can get you set up quickly!
Leveraging our extensive knowledge and experience in the ecommerce space, we'll implement best practices to optimize and scale your account to drive more profitable sales for your store. This may include tactics like A/B testing, data feed optimizations, bidding management, negative keyword management, and other essential optimizations.
"Ed has invested thousands of painstaking hours into understanding the nuances of sales and marketing so his customers can prosper. He's a true professional in every sense of the word and someone I look to when I need advice."
What Are
Google Shopping Ads
?
Google Shopping Ads are a form of advertising offered by Google that allows businesses to display their products in Google's search results and Google Shopping feed. When a user searches for a product on Google, Shopping Ads will appear as a set of product listings with images, prices, and retailer information. These ads are designed to help businesses increase visibility and drive sales by making it easier for potential customers to find and purchase their products online.

At Clicks Geek, our team of paid search experts will be working with you to build, launch and scale your ecommerce PPC campaigns. No matter what niche you are in, we can help drive more sales by leveraging Google's shopping platform. We know exactly what it takes to quickly optimize and scale successful ecommerce campaigns.
Maximize Your Sales With Ecommerce PPC Management
Don't struggle with PPC advertising on your own – let our team of ecommerce paid search professionals help you. We create, manage, and optimize campaigns that drive revenue growth for your business using proven methods. We won't just get your store's products seen in Google's shopping feed; we'll make sure they stand out from the competition!
Client Testimonial
Praise
Steven Cortez
Ed's a great dude! PPC expert all the way. I've had a couple phone calls with him. Very helpful and down to earth.
Max Reznich
I have Robert Salvatore saved in my phone as "PPC Whisperer" for a reason. The man can do things with a Google Ads campaign that I've never seen before. Thanks again brother.
Daniel Kichen
These guys are so awesome that even if they can't help you they will refer you to somebody who can. That doesn't happen often, good people.
Jeremy Bolton
Just wanted to give Ed Stapleton at Clicks Geek a recommendation if any of you guys are looking to outsource your google ads campaigns. Double my clients conversions within a month and now have a VERY happy client! Thanks Ed...
Jacob Kettner
Quick shout-out to Robert Salvatore over at Clicks Geek. I was on a call with Mark Luckenbaugh yesterday bitching about a Google Ads campaign that wasn't converting well, and he suggested I talk to Robert. I hit him up yesterday in the afternoon, and by 8:30AM this morning he'd done a complete audit of the campaign and laid out actionable steps for me to take to improve both CTR and costs as well as how I'm tracking, and the way I'm targeting keywords.  I can honestly say I learned more about Google Ads from his audit than I did from the last Google Ads course I took.
Brant Scheifler
Quick tip of the hat to Ed and Robert on the PPC front. I sent them a PPC campaign a couple months back for one of my local clients. Theya re killing it both on CPC and CPL. I honestly hate managing PPC, and even though Rob would attest to me knowing more about Google Ads than him (actually not really he would never say that nor is it true), I prefer to not have to look at PPC campaigns whenever possible. So, just wanted to say that if you need a good PPC resource that's hand off I would check out these guys! Hope this helps someone that may be fed up with managing Google Ads or looking for a good source.
See what our
happy clients
have to say.
We're a Google Partner Agency
When it comes to PPC, we walk the walk.
As a Google Partner Agency, we've joined the cream of the crop in PPC specialists. This designation is reserved for advertising agencies who have demonstrated a consistent track record of success.
We Specialize in Google Shopping Ads
We'll leverage Google's Shopping feed/platform to put your products directly in front of your targeted audience right at the moment they are searching Google in real time for them. They search for your product to buy, we place your product right in front of them.
Frustrated with mediocre sales and a constantly rising ad spend?
Capture the attention of potential buyers when they're ready to make a purchase!
Got questions?

We've got
answers
What is ecommerce advertising?
Ecommerce PPC is a form of online advertising that allows businesses to show ads in search engine results or on other websites and pay a fee for each click. This can help businesses drive targeted traffic to their website and increase sales by promoting products to a specific type of audience.
Where will my ecommerce ads appear?
Your ads will appear in Google's search results page (SERPS) and in Google's product shopping feed. On Google Shopping, users can filter and sort results by price, rating, and other criteria, and click on an ad to be taken to the product page on the retailer's website.
Do you provide social media marketplace advertising as well?
No. We only specialize in Google Shopping and also Microsoft Shopping Advertising services.
How long will it take to launch my campaign?
From product data feed set up to full campaign build and launch you are looking at a 4 day launch window depending on Google's Merchant Center approval time.