Google Ads Campaigns
That Actually Work
Clicks Geek is a U.S. Based Google Ads agency focused on positive-ROI customer acquisition. If you want to grow your brand through paid search, let's talk!
We're a Google Partner Agency
When it comes to PPC, we walk the walk.
As a Google Partner Agency, we've joined the cream of the crop in PPC specialists. This designation is reserved for advertising agencies who have demonstrated a consistent track record of success.
Scale Your Business With Google Ads
Which best describes your business?
Get more leads and sales than your business can handle with ads that actually convert.
"Ed has invested thousands of painstaking hours into understanding the nuances of sales and marketing so his customers can prosper. He's a true professional in every sense of the word and someone I look to when I need advice."
See what our
clients
have to say.
Want best-in-class PPC agency services? You're at the right place. Top 3 reasons clients choose us:
There's no such thing as set-it and forget-it ads. Your ad campaigns are constantly optimized and tweaked to improve conversion rates. We create exponential profitability for your company by staying on top of your ad campaigns daily.
Seriously, you read that right! Clicks Geek has the largest Google Ads training channel in the world. 1,500+ videos and 1,000's of subscribers with videos ranging from Google Ads "how to" tutorials, case studies, agency trainings and so much more.
You aren't just another sale to us. You are a valued partner and we care deeply about your success. When you win, we win! Just look at the hundreds of client and agency partner testimonial videos we have from over the years.
Full-Service PPC Management
Whether you've been doing PPC campaigns for years or you're just getting started, we'll ensure optimal setup for ROI-positive results.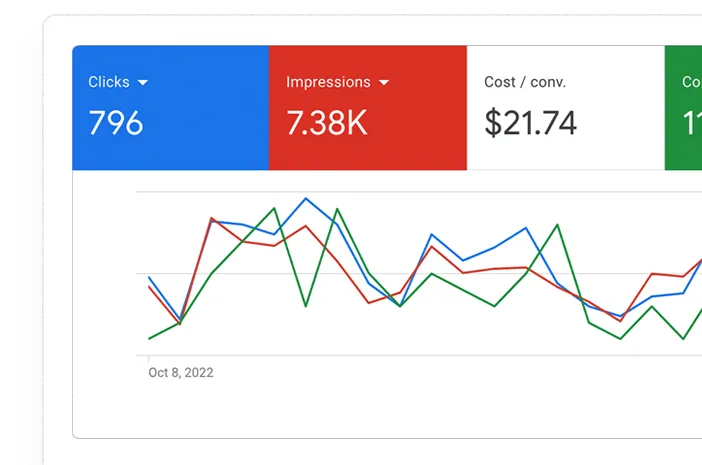 We work with SEO companies, consultants, web designers, and ad agencies to provide successful PPC campaigns behind the scenes.
Need help setting up and executing PPC campaigns? You're in the right place. Just a beginner or advanced? We have something for everyone.
Use
Google Ads
To Outsmart The Competition
Ed's advice, information, and techniques have helped my business not only STAY OPEN these last few years, but GROW with consistency.