Google Ads For
HVAC Contractors
Clicks Geek is a U.S.-Based Google Ads agency focused on increasing sales and leads for HVAC companies. We do this by driving quality traffic and delivering a superior landing page experience.
"Ed has invested thousands of painstaking hours into understanding the nuances of sales and marketing so his customers can prosper. He's a true professional in every sense of the word and someone I look to when I need advice."
HVAC Marketing & Lead Generation
With Google being the best source for anyone searching for HVAC contractors, capitalizing on its AdWords PPC platform is ideal for business owners looking to reach more customers.
Using Google Ads to market your HVAC company will enable you to reach people who are already looking for the services and products you offer.
How you manage your Google Ads campaign, however, significantly determines its success. Unfortunately, if you are new to Google Ads, creating, launching, and managing your campaign can be challenging. With campaign management having a high level of importance, hiring a professional Google Ads management agency is often the smart choice.
With the right strategy, Google Ads allows an HVAC company to connect in real-time with prospective clients looking for their services. You only pay when people click on your ad, which can direct visitors to your site or landing page, where you can encourage them to set up a consultation or generate a call to visit your site.
Ed's advice, information, and techniques have helped my business not only STAY OPEN these last few years, but GROW with consistency.
Take your business to the next level with a PPC agency that actually delivers.
How a Google Ads Management Agency Can Ensure Marketing Success
A professional management agency understands what every campaign needs to make it a success. They are aware of the market landscape, how to target your business' most relevant traffic, and drive lead generation.
With expert help, you will be able to enjoy the numerous benefits that Google Ads bring, with some of those benefits being: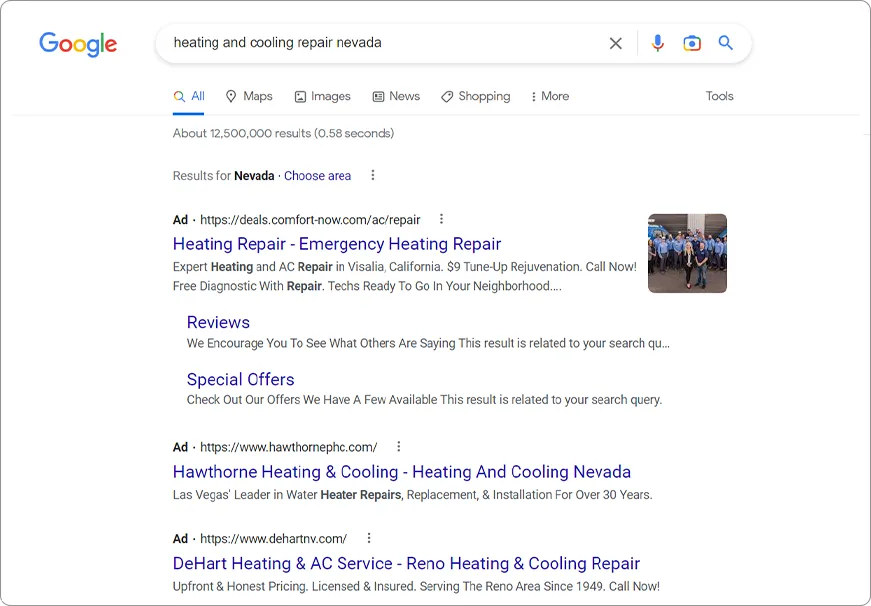 The guys at Clicks Geek are SEM experts and some of the most knowledgeable marketers on the planet. They are obviously well studied and I often wonder from where and how long it took them to learn all this stuff. They're leap years ahead of the competition and can make any industry profitable with their techniques, not just the software industry. They are legitimate and honest and I recommend him highly.
The Benefits of Pay Per Click Advertising For HVAC Companies
Performing Proper Tracking

Through tracking, you can find out which HVAC ads are working and which ones aren't, making it possible for you to know when your marketing investment is being put to good use. The main thing that a management agency will track is conversions.

Ideally, potential customers will contact your HVAC business through calls, emails, or webforms. One of the solutions tracking offers is a way of knowing where a call is coming from. When you know the ads that are not generating any leads for you, you know to turn them off. The whole process further helps make your budget more sustainable.

Building Effective Landing Pages

It is important for your company to have unique landing pages that offer users information about what they are searching for. A professional Google Ads management agency will create a landing page for each HVAC service your business offers, be it installation, maintenance, or repairs.

They will also make sure your landing page is mobile-friendly, seeing as most users today are using their mobile devices to search for the products and services they need. Finally, an effective landing page is one that has a clear call to action for new customers.

The more informative, simple, and concise your ad and landing page is, the more effective it will be at converting leads to actual customers. Some of the information they will include on your landing page includes:

∙ Who you are
∙ A history of your reputation and a few reviews from past customers
∙ The reasons a potential customer should contact you
∙ A clear call to action, be it a link to a subscription form or contact page

Researching Relevant Keywords for Your Campaign

Keywords are the true gems that generate for you the quality leads and conversion rates you are after, and that is why picking the right ones for your campaign is vital. Most HVAC companies think picking keywords is as easy as going for the high-volume ones because these are the words that most people often search for.

The problem with that is, high volume keywords tend to have higher competition. This means that the bidding price for such words would be extremely costly. If you are working with a limited budget, opting for high-volume keywords is an ineffective way of spending your funds.

Through keyword research, your AdWords management agency is able to provide you with several long-tail HVAC keywords that have a lower CPC yet are still able to offer you leads and conversions.
Check to see if your territory is available still!
Signing up for a PPC ad account is simple. You don't have to hire a PPC agency to set up and manage your campaign, but most HVAC and companies lack the time, tools, and expertise required to maximize ROI.
Client Testimonial
Praise
Steven Cortez
Ed's a great dude! PPC expert all the way. I've had a couple phone calls with him. Very helpful and down to earth.
Max Reznich
I have Robert Salvatore saved in my phone as "PPC Whisperer" for a reason. The man can do things with a Google Ads campaign that I've never seen before. Thanks again brother.
Daniel Kichen
These guys are so awesome that even if they can't help you they will refer you to somebody who can. That doesn't happen often, good people.
Jeremy Bolton
Just wanted to give Ed Stapleton at Clicks Geek a recommendation if any of you guys are looking to outsource your google ads campaigns. Double my clients conversions within a month and now have a VERY happy client! Thanks Ed...
Jacob Kettner
Quick shout-out to Robert Salvatore over at Clicks Geek. I was on a call with Mark Luckenbaugh yesterday bitching about a Google Ads campaign that wasn't converting well, and he suggested I talk to Robert. I hit him up yesterday in the afternoon, and by 8:30AM this morning he'd done a complete audit of the campaign and laid out actionable steps for me to take to improve both CTR and costs as well as how I'm tracking, and the way I'm targeting keywords.  I can honestly say I learned more about Google Ads from his audit than I did from the last Google Ads course I took.
Brant Scheifler
Quick tip of the hat to Ed and Robert on the PPC front. I sent them a PPC campaign a couple months back for one of my local clients. Theya re killing it both on CPC and CPL. I honestly hate managing PPC, and even though Rob would attest to me knowing more about Google Ads than him (actually not really he would never say that nor is it true), I prefer to not have to look at PPC campaigns whenever possible. So, just wanted to say that if you need a good PPC resource that's hand off I would check out these guys! Hope this helps someone that may be fed up with managing Google Ads or looking for a good source.
Find Out If Your Territory Is Still Available.
See what our
happy clients
have to say.
We're A Google Partner Agency
As a Google Partner Agency, we've joined the cream of the crop in PPC specialists. This designation is reserved for only a small fraction of Google Partners who have demonstrated a consistent track record of success.
Setting Up Your Ad Group and Campaign Structure
This is a complicated process because of the many different approaches and strategies. Fortunately, there is no one answer, and the right structure entirely depends on you and your HVAC business' marketing goals.
While there are different approaches, several agencies follow these essential guidelines when setting up a Google Ads structure:
Keeping the Amount of Your Ad Group Keywords Concise
There is an almost limitless amount of keywords an ad group can target, and though it might be tempting to use them all, a professional management agency will advise against it. Instead, keep your keywords and ad groups concise, making sure that they all share a similar theme. The more concise they are, the higher the quality of leads you will get.
Furthermore, choosing the right keyword match types helps to improve your campaign's quality score. The quality score gives you an insight into how well your keywords, ad, and landing page match. A management agency always aims for consistency, helping you attain a high-quality score that signifies more precise targeting.
Utilizing Negative Keywords
Negative keywords are the words or phrases with which you do not want your business to be associated. These come in handy when you are using broad-match keywords within your ad groups. Without negative keywords, your ad will appear on results that have nothing to do with the services you offer. This will lead you to waste money on your AdWords marketing.
Offering Your Campaign the Time and Effort It Requires
Contrary to popular belief, your ads are not going to offer you overnight success. This is why the dedicated time and effort a Google Ads management agency offers you is easily the most important aspect of their services.
Your HVAC company is going to have different services, products, promotions, and target audiences. Each one of these will need a different marketing strategy, which will need research and set up. The agency's time and effort will also go toward monitoring and optimizing your ads, identifying what's working and tweaking the things that aren't. They will be able to do this for you with minimal effort from you. This would make it possible for you to focus on running your business, knowing that your marketing is in good hands.
Once you get started, Google AdWords can be a game-changer for your HVAC company if you utilize it correctly. One way to ensure that your implementation is ideal is by outsourcing your campaign management.
Tracking through analytics is an essential part of succeeding in your Google Ads campaign.
We'll track the results from your ads campaign diligently and use them to measure the effectiveness of your campaigns. We'll set up call tracking and contact form tracking down to the keyword level to enable us to optimize your campaigns and drive more inbound leads.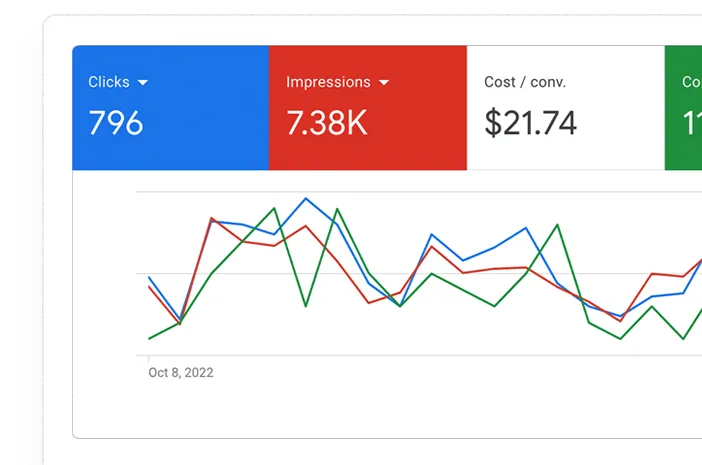 We offer unrivaled expertise and have a reputation for providing wildly successful results for our clients.
If you're in the HVAC industry, make the most of your marketing dollars. Contact us at Clicks Geek today to get started with Google Ads or to have our team analyze your current campaign. Have any questions? Our friendly team is always happy to answer them and offer guidance to implement the right HVAC marketing strategy.