Google Ads For
Winshield
& Auto Glass
Clicks Geek is a U.S.-Based Google Ads agency focused on increasing sales and leads for windshield and auto glass companies. We do this by driving quality traffic and delivering a superior landing page experience.
"Ed has invested thousands of painstaking hours into understanding the nuances of sales and marketing so his customers can prosper. He's a true professional in every sense of the word and someone I look to when I need advice."
At ClicksGeek, we know that relevant search ads matter in increasing clicks on your website and maximizing your advertising cost per lead. That's why we give you the best Google Ads solutions to your marketing needs as an expert windshield repair and auto glass marketing resource.
Our PPC campaigns can help keep your phone ringing and your website name in the prime real estate at the top of Google searches, allowing your auto glass business to reach more people and convert more call or web page leads than ever before.
At Clicks Geek, a Partner Google Ads Management Agency – we can help you. Our team of experts has extensive experience helping windshield and auto glass repair companies get more qualified site traffic and convert more site visitors into leads and clients. We're just a phone call away. Reach out to us for a custom plan!
Ed's advice, information, and techniques have helped my business not only STAY OPEN these last few years, but GROW with consistency.
Take your business to the next level with a PPC agency that actually delivers.
Expert Marketing Solutions for Your Auto Glass Business
As a Google Premier Partner Agency, we have the knowledge and experience that allow us to be recognized as one of the most consistently successful advertising companies to be an official partner with Google. All members of our expert team are certified in Google Ads and Bing Ads marketing services, allowing your ads to reach customers on a variety of platforms.
Additionally, all of our employees are enrolled in continuing marketing education courses so that they can use the most modern PPC management strategies and SEO practices to generate the leads your auto glass business needs.
In the reviews left by some previous clients and company owners, you can find a success story from someone in almost any type of business. Within a few hours of helping you get started with a marketing plan, you will see a noticeable increase in landing customers' page clicks and inbound phone calls.
We're so confident in the PPC campaigns that our business puts on the market that we don't need to lock you in with contracts. If you are not satisfied with our auto glass marketing services you are free to cancel our campaign management at any time, plus we offer a 30-day money-back guarantee. To ensure the best service, we also offer location exclusivity to each of our clients so that you know we're dedicated to helping you beat the marketing competition in securing leads.
The guys at Clicks Geek are SEM experts and some of the most knowledgeable marketers on the planet. They are obviously well studied and I often wonder from where and how long it took them to learn all this stuff. They're leap years ahead of the competition and can make any industry profitable with their techniques, not just the software industry. They are legitimate and honest and I recommend him highly.
Take Advantage of Our Proven Auto Glass Marketing Services
By leveraging Google Ads platforms, we can put your unique selling proposition directly in front of the target local audience in real-time as they search for windshield repair services. We begin the process by meeting to discuss your target windshields and auto glass customers, your top competitors, and goals for your campaign.
After payment and an onboarding process of 24 to 72 hours, we will begin either building a new campaign or optimizing your existing auto glass marketing ideas.
Proven Google Ad Campaigns

If your company needs a new marketing campaign, we can use your auto glass repair company's information in campaigns that already convert and pull leads. These proven Google campaigns take the guesswork out of trying to attract new leads so you don't have to invest precious time and budgets into a marketing plan that won't guarantee results.

We have extensive experience selecting industry-appropriate keywords that your target audience is using when looking for local windshield repair services. We use these keywords to make our campaign relevant to your desired customers and clients.

Ongoing Marketing Management

After your new Google Ads are up and running, we handle all of the tracking for contact form and call conversions so that you can see what marketing keywords are successful in attracting attention from customers needing local windshields and autoglass services. Then, using the bid management tools provided by Google Ads, we can optimize our clients' cost per conversion to help you make the most of your marketing budget. We also extend our autoglass marketing to your social media such as Facebook and YouTube for the best results in drawing customers to your website pages.
Check to see if your territory is available still!
Signing up for a PPC ad account is simple. You don't have to hire a PPC agency to set up and manage your campaign, but most windshield repair and auto glass companies lack the time, tools, and expertise required to maximize ROI.
Find Out If Your Territory Is Still Available.
See what our
happy clients
have to say.
We're A Google Partner Agency
As a Google Partner Agency, we've joined the cream of the crop in PPC specialists. This designation is reserved for only a small fraction of Google Partners who have demonstrated a consistent track record of success.
Landing Pages that Convert Leads for Your Business
We've spent thousands of dollars and years of marketing experience to develop a landing page design that is simple and proven to convert at over 50%, resulting in more than 50 leads through a contact form or phone call for every 100 visits to your website.
Increasing your auto glass repair leads is as easy as customizing our existing business design with your company's phone number, name, location, and other information.
We utilize these in Google marketing plans that cater to your targeted locations and work with your budgets. If you prefer to use an in-house designer for your website elements, we will consult with your team to ensure that your site provides all the elements necessary for successful windshield marketing at no additional cost.
Tracking through analytics is an essential part of succeeding in your Google Ads campaign.
We'll track the results from your ads campaign diligently and use them to measure the effectiveness of your campaigns. We'll set up call tracking and contact form tracking down to the keyword level to enable us to optimize your campaigns and drive more inbound leads.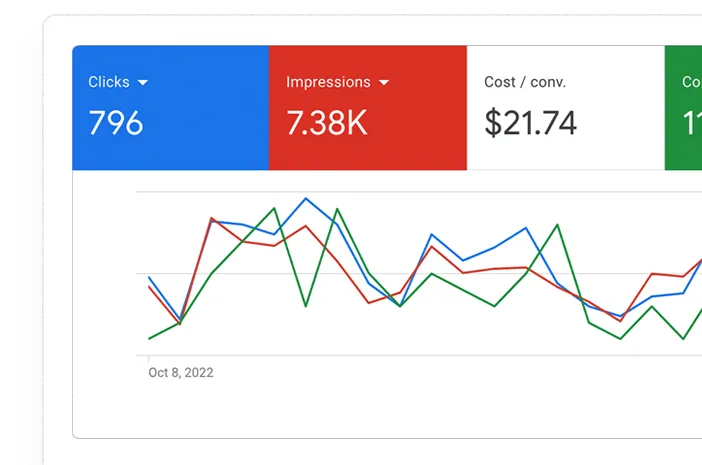 We offer unrivaled expertise and have a reputation for providing wildly successful results for our clients.
If you're in the auto detailing industry, make the most of your marketing dollars. Contact us at Clicks Geek today to get started with Google Ads or to have our team analyze your current campaign. Have any questions? Our friendly team is always happy to answer them and offer guidance to implement the right auto detailing marketing strategy.
Detailed Metrics and Results
By consistently tracking lead conversions and keyword effectiveness, we gather the data necessary to present you with a detailed report on our marketing success every week. Weekly conversion and click data allows us to provide ongoing service in optimizing the performance and lead flow of your autoglass campaign by making adjustments to windshield marketing, ad pages extension, call schedule times, devices, negatives, and fine details of your landing page such as its keywords and call to action. Google's marketing platforms offer innovative automatic bidding strategies that help us to understand which elements are doing well and improve your windshield marketing by increasing bids on successful parts and decreasing bids on duds, allowing your campaign to continue to run optimally.
When you need to make your auto glass business more prominent, allow us to mobilize our proven system of windshield replacement and auto glass marketing campaigns to help you convert the call and website leads you need to be successful. With no contracts and a 30-day satisfaction guarantee, our Google partner company is a low-risk investment that will put your auto glass business name at the top of local Google search pages.
Client Testimonial
Praise
Steven Cortez
Ed's a great dude! PPC expert all the way. I've had a couple phone calls with him. Very helpful and down to earth.
Max Reznich
I have Robert Salvatore saved in my phone as "PPC Whisperer" for a reason. The man can do things with a Google Ads campaign that I've never seen before. Thanks again brother.
Daniel Kichen
These guys are so awesome that even if they can't help you they will refer you to somebody who can. That doesn't happen often, good people.
Jeremy Bolton
Just wanted to give Ed Stapleton at Clicks Geek a recommendation if any of you guys are looking to outsource your google ads campaigns. Double my clients conversions within a month and now have a VERY happy client! Thanks Ed...
Stuart Trier
Ed & Rob over at Clicks Geek are great guys and do really good work. If you are looking for white label PPC management. They are honest and will tell you if they can't get you the results you are looking for... Highly endorse these guys.
Josh Nelson
I've heard nothing but good things about Ed Stapleton and his services... if you are looking for someone to help you manage your paid search campaigns he could be a great resource for you.