Google Ads For
Podiatrists
Clicks Geek is a U.S.-Based Google Ads agency focused on increasing sales and leads for podiatrists. We do this by driving quality traffic and delivering a superior landing page experience.
"Ed has invested thousands of painstaking hours into understanding the nuances of sales and marketing so his customers can prosper. He's a true professional in every sense of the word and someone I look to when I need advice."
How do you look for new podiatric patients?
About 75% of Americans experience foot problems at least once in their life. It's no surprise that 5% of the U.S. population sees a podiatrist at least once annually. When people have issues with their feet, they use Google to find a podiatry clinic they can trust.
Those looking for a podiatrist perform around 80,000 searches performed each month and also respond to Facebook ads. This means that potential patients most likely won't find your website unless your podiatry practice is at the top of search results pages (SERPs) or on social media.
Paid advertising helps you grow your practice and book more appointments by appearing above organic searches. If your competitors aren't using PPC, then that gives you an advantage. Podiatric patients searching for doctors in your area are more likely to find your practice on online search results.
Without a digital advertising campaign, your practice will have to rely on SEO or inconsistent referral sources to improve, which usually takes a while. If you need a quick boost to your revenue, pay-per-click advertising can help you grow your practice fast.
Ed's advice, information, and techniques have helped my business not only STAY OPEN these last few years, but GROW with consistency.
Take your business to the next level with a PPC agency that actually delivers.
Paid Ads for Podiatry Practices
In today's highly competitive market, PPC advertising campaigns help you stay ahead of the competition.
Doctors are not marketers. We know you want to focus your energy on your patients and not on your advertising efforts. That's why we're here. Clicks Geek, our top-notch Google Ads management company, has expertise in marketing podiatry practices. At Clicks Geek, we are a team of dedicated PPC (pay-per-click) professionals who know how to strategize by using eye-catching, informative ad copy that will amplify your USP (unique selling proposition).
PPC's goal is to get your practice's listing (a text-based advertisement) to show up on the top of the Google SERPs whenever a prospective patient enters whichever key words you decide upon. The beauty is that you only pay each time someone *clicks* on your listing, which takes them through to your webpages.
But that's just the beginning – our experts will also create custom-optimized landing pages on your website to make sure those clicks will convert into real business for your podiatry clinic.
Google Ads (formerly Google Adwords) is an advertising platform and digital marketing channel. It's an effective way to send patients searching for foot and ankle care to your podiatry practice. Thanks to PPC marketing, you can boost traffic to your site, receive more phone calls, and increase the number of clinic appointments.
PPC marketing increases your web presence, allowing you to create and share the right ads among prospects in your local area and direct them to your website. This means your podiatry practice will show up as ads on top of SERPs when your ideal patients are looking for your services via Google search or Google Maps.
Paid search ads are one of the best podiatry marketing strategies because your ads appear at the top, whether your potential patient is using a computer or mobile device.
The guys at Clicks Geek are SEM experts and some of the most knowledgeable marketers on the planet. They are obviously well studied and I often wonder from where and how long it took them to learn all this stuff. They're leap years ahead of the competition and can make any industry profitable with their techniques, not just the software industry. They are legitimate and honest and I recommend him highly.
PODIATRY PRACTICE & CLINIC ADS
Digital Marketing Experts
A recent study revealed that PPC marketing accounts for an increase in brand awareness by 80 percent. That's a marketing opportunity podiatry practices cannot afford to ignore.
Also, close to half of the people who Google certain keywords to find the information they need can't differentiate between organic Google results and paid advertisements.
This means that doing your PPC plan right is one of the best ways to get on top of the SERPs and get noticed by patients looking for podiatry practices. Rather than trying to figure it out yourself, which can cost more time and money, you're better off partnering with professional PPC experts who will help you drive more traffic to your site.
Another significant digital marketing service is search engine optimization, commonly called SEO, which works differently. SEO is an approach to engineer your site ranking in organic (non-paid) search returns by inserting strategized SEO key words into your web copy and other tactics. SEO works in a complementary way to the PPC method.
A third option beyond search and SEO is creating Facebook ads, which allow you to target particular demographic categories so that your advertisement will appear on the news feed of potential patients fitting your criteria. These ads are usually more creative than the text-based SERPs ads, but they, too, lead prospects to your landing page.
Find Out If Your Territory Is Still Available.
See what our
happy clients
have to say.
We're A Google Partner Agency
As a Google Partner Agency, we've joined the cream of the crop in PPC specialists. This designation is reserved for only a small fraction of Google Partners who have demonstrated a consistent track record of success.
What to Expect When Working with Us
Leverage our podiatry digital marketing solutions to lead potential clients to your landing page where they can browse your site and book appointments. Our marketing management expertise and service can focus on PPC using both Google and Facebook ads, as well as SEO approaches, starting with Step 1 and continuing until you have plenty of first-time patients on your clinics' appointment books.
Initial Consultation

Before anything, Step 1 is to discuss your marketing goals, top competitors, and target audience. That will allow us to roll out a business plan unique to your business. Once we agree on goals for your strategic action plan and a monthly ad budget for Google and Facebook ads, we will get to work either optimizing your existing campaigns or building out a new one.

Keyword Research

After learning more about your podiatry practice and digital marketing goals, ClicksGeek experts dive right into finding the best key words to target qualified leads while still staying within your ad spend budget per month. We'll work with you on a list of terms prospects might use, like foot doctor, shoes for flat feet, foot clinics, sore feet, foot problems, overpronation, bad arches–as well as the straightforward podiatrists.

We can help you create custom copy for ads, social media, and web pages that will help your practice get noticed by more prospects and drive patients to your podiatry practice. We then launch the plan and monitor the activity consistently, redefining the digital marketing plan when necessary.

Regular Assessments

Whether you're planning to start your PPC strategic action plan from scratch or already have one in place that needs fine-tuning, our team at Clicks Geek can have you covered. We have what it takes to do a bit of tweaking and testing to attract and convert new patients for you.

Tracking Conversions

The purpose of setting up PPC advertisements is to get your podiatry practice noticed and ultimately get patients to your website. Our management team will ensure that your campaigns are working effectively by tracking the entire process using analytics.

Custom Form and Call Tracking

Any successful PPC strategic action plan requires proper tracking. You can count on us to set up contact-form and call-conversion tracking.

We can keep track of personal information on clients who have visited your page, such as first name, last name, phone number, email, and other questions you might ask related to their lives and relevant to your podiatry practice. We also track the calls and forms to see the specific keywords driving traffic to your website at the lowest cost.

Weekly reporting also allows us to analyze weekly conversion rate and click data to make regular tweaks and adjustments for continuous optimal lead flow/performance of the strategic action plan. Our team will make tweaks on the fly to anything from keywords, cost-per-click, and advertising extensions to advertisement designs, devices, and schedules. We'll implement whatever practices it takes to make sure your campaign stays on track so you attract the right clients to your website.

Custom Reporting

Every Monday, our team will email you a detailed report of your campaign's account activity. The report will also compare your new week to the previous week so you'll see the progression of your strategic marketing plan.

Bid Management

Running the most optimal, high converting keywords boils down to the bid strategy and digital marketing plan you choose. Fortunately, Google offers an array of auto-bidding strategies on cost-per-click, key words, and so on. We will increase bids on winner key words and remove or decrease bids on low-ranking terms since a plan left unchanged is not very fruitful.
Tracking through analytics is an essential part of succeeding in your Google Ads campaign.
We'll track the results from your ads campaign diligently and use them to measure the effectiveness of your campaigns. We'll set up call tracking and contact form tracking down to the keyword level to enable us to optimize your campaigns and drive more inbound leads.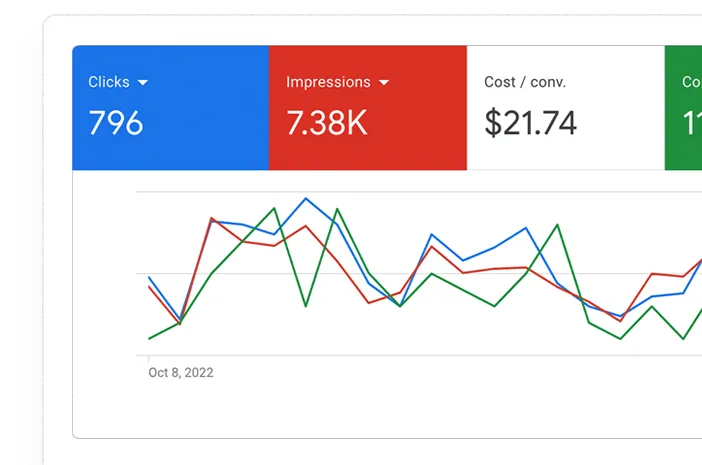 We offer unrivaled expertise and have a reputation for providing wildly successful results for our clients.
If you're in the doctor and physician industry, make the most of your marketing dollars. Contact us at Clicks Geek today to get started with Google Ads or to have our team analyze your current campaign. Have any questions? Our friendly team is always happy to answer them and offer guidance to implement the right doctors office marketing strategy.
Working with a renowned Google Ads management agency like Clicks Geek can help you stand out from the competition. Our team will use specific key words to target qualified leads that make you more relatable to those looking for a podiatrist. And the most efficient and reliable way to gain exposure and bring people into your practice is to implement a solid PPC advertising strategy that perfectly complements your other online marketing efforts. Call us today to start your new digital marketing efforts!
Client Testimonial
Praise
Steven Cortez
Ed's a great dude! PPC expert all the way. I've had a couple phone calls with him. Very helpful and down to earth.
Max Reznich
I have Robert Salvatore saved in my phone as "PPC Whisperer" for a reason. The man can do things with a Google Ads campaign that I've never seen before. Thanks again brother.
Daniel Kichen
These guys are so awesome that even if they can't help you they will refer you to somebody who can. That doesn't happen often, good people.
Jeremy Bolton
Just wanted to give Ed Stapleton at Clicks Geek a recommendation if any of you guys are looking to outsource your google ads campaigns. Double my clients conversions within a month and now have a VERY happy client! Thanks Ed...
Jacob Kettner
Quick shout-out to Robert Salvatore over at Clicks Geek. I was on a call with Mark Luckenbaugh yesterday bitching about a Google Ads campaign that wasn't converting well, and he suggested I talk to Robert. I hit him up yesterday in the afternoon, and by 8:30AM this morning he'd done a complete audit of the campaign and laid out actionable steps for me to take to improve both CTR and costs as well as how I'm tracking, and the way I'm targeting keywords.  I can honestly say I learned more about Google Ads from his audit than I did from the last Google Ads course I took.
Brant Scheifler
Quick tip of the hat to Ed and Robert on the PPC front. I sent them a PPC campaign a couple months back for one of my local clients. Theya re killing it both on CPC and CPL. I honestly hate managing PPC, and even though Rob would attest to me knowing more about Google Ads than him (actually not really he would never say that nor is it true), I prefer to not have to look at PPC campaigns whenever possible. So, just wanted to say that if you need a good PPC resource that's hand off I would check out these guys! Hope this helps someone that may be fed up with managing Google Ads or looking for a good source.