Google Ads For
Plumbing Companies
Clicks Geek is a U.S.-Based Google Ads agency focused on increasing sales and leads for plumbing companies. We do this by driving quality traffic and delivering a superior landing page experience.
"Ed has invested thousands of painstaking hours into understanding the nuances of sales and marketing so his customers can prosper. He's a true professional in every sense of the word and someone I look to when I need advice."
How are you getting new clients for your plumbing business?
A plumbing company needs to constantly drum up business and attract customers who are looking for the best plumber in their area.
If you're a small business owner, you might wonder how to make the most out of your marketing budget. Investing in Google Ads is a proven way to get high-quality work and spend your ad money wisely.
With the right strategy, Google Ads allows an plumbing company to connect in real-time with prospective clients looking for their services. You only pay when people click on your ad, which can direct visitors to your site or landing page, where you can encourage them to set up a consultation or generate a call to visit your site.
Ed's advice, information, and techniques have helped my business not only STAY OPEN these last few years, but GROW with consistency.
Take your business to the next level with a PPC agency that actually delivers.
Formerly known as Google AdWords, Google Ads are an effective way to make sure that people searching for a plumber find your business right away.
At a minimum, your plumbing ads will need to meet the search engine's advertising criteria. However, you can further tailor your ad campaign to target potential customers in your service area using plumbing keywords to attract clicks.
You may also buy sitelink extensions. Typically, searches send people to your website's landing page. With sitelink extensions, plumbing companies can display additional pages, such as a page about specific plumbing services you provide or the Contact Us page that displays your name, email address, phone number, and other contact information so customers can reach you quickly.
A call-only campaign can also help you generate leads among mobile users. By listing just your basic information – company name, phone number – customers on a cell phone can bypass your website entirely and call you straight from their Google search results.
The guys at Clicks Geek are SEM experts and some of the most knowledgeable marketers on the planet. They are obviously well studied and I often wonder from where and how long it took them to learn all this stuff. They're leap years ahead of the competition and can make any industry profitable with their techniques, not just the software industry. They are legitimate and honest and I recommend him highly.
Plumbing marketing can be tricky because you need to focus your ads on search terms that will generate leads wanting a plumber, not people looking to do their own home repair. Your search ads might want to exclude phrases like "do it yourself" or "DIY." These excluded terms are known as negative keywords.
You may also target specific plumbing issues with Google Ads. For example, you could create ads specifically for residential services. That way, your residential plumbing services ad will only appear when a homeowner is looking to hire a plumbing company but not appear on results when someone queries about commercial plumbing.
You can also generate leads by linking your Google Ads to your Google My Business account to increase your reach. Doing so will help you turn up on Google Maps searches when people look for a plumbing company "near me" and in your area.
Focus on High-Paying Plumbing Jobs
Consider which plumbers are in demand in your area. Are customers looking for water heater repair? HVAC specialists? An emergency plumber to visit after hours for problems like a burst pipe?
Consider shaping your Google Ads for plumbing services for which customers will pay top dollar.
You can also save money by investing in a remarketing ad campaign. If someone has visited your site in the past, this technique will remember them and continue to show them a special ad from you in case they might need plumbing work again.
Think of one of your prospective clients browsing plumbers at other service companies – your competition. With remarketing, you can remind them that you're the local leader and first name in plumbing in your neck of the woods. In advertising, it's cheaper to retain a returning customer than lure in a new one. Remarketing helps you keep customers coming back while keeping your ad costs down.
Invest in PPC – Pay Per Click Advertising
PPC advertising can be a cost-effective strategy to manage plumbing advertising. By paying per click, you control your ad budget while allowing your business to grow without taking on more than your plumbing team can handle.
PPC ads can be a marvelous strategy to stay on top of your competitors, whether on Google, Facebook, or another website. However, if you find PPC ads daunting, you might consider hiring a marketing agency and talking to your account manager to figure out how to make PPC ads attract more leads to your company.
Experienced search-engine-marketing-professionals can even design a PPC ad campaign that will lead searchers to one specific landing page.
Follow Up on Your Ad Spend
Ensure that your marketing investment is giving you a decent return. One good measure is to check your conversion rate. When search engine users see your ad, do they click on it? Do they find your email address and phone number? Do they call your office or write to you? After all, converting shoppers to customers is the goal when using Google Ads and similar marketing techniques.
Google even has its own barometer to judge advertisements. Interestingly, the company that pays the most doesn't always end up at the top of the search results. Consumers want to see ads that direct them to relevant information. If they have a plumbing question, they want their ad results to lead them to a solution.
This is why search engines use a quality score to give some ads prominence over others. Some factors to consider when trying to boost your score have been discussed on this page, namely:
Check to see if your territory is available still!
Signing up for a PPC ad account is simple. You don't have to hire a PPC agency to set up and manage your campaign, but most plumbing and companies lack the time, tools, and expertise required to maximize ROI.
Client Testimonial
Praise
Steven Cortez
Ed's a great dude! PPC expert all the way. I've had a couple phone calls with him. Very helpful and down to earth.
Max Reznich
I have Robert Salvatore saved in my phone as "PPC Whisperer" for a reason. The man can do things with a Google Ads campaign that I've never seen before. Thanks again brother.
Daniel Kichen
These guys are so awesome that even if they can't help you they will refer you to somebody who can. That doesn't happen often, good people.
Jeremy Bolton
Just wanted to give Ed Stapleton at Clicks Geek a recommendation if any of you guys are looking to outsource your google ads campaigns. Double my clients conversions within a month and now have a VERY happy client! Thanks Ed...
Jacob Kettner
Quick shout-out to Robert Salvatore over at Clicks Geek. I was on a call with Mark Luckenbaugh yesterday bitching about a Google Ads campaign that wasn't converting well, and he suggested I talk to Robert. I hit him up yesterday in the afternoon, and by 8:30AM this morning he'd done a complete audit of the campaign and laid out actionable steps for me to take to improve both CTR and costs as well as how I'm tracking, and the way I'm targeting keywords.  I can honestly say I learned more about Google Ads from his audit than I did from the last Google Ads course I took.
Brant Scheifler
Quick tip of the hat to Ed and Robert on the PPC front. I sent them a PPC campaign a couple months back for one of my local clients. Theya re killing it both on CPC and CPL. I honestly hate managing PPC, and even though Rob would attest to me knowing more about Google Ads than him (actually not really he would never say that nor is it true), I prefer to not have to look at PPC campaigns whenever possible. So, just wanted to say that if you need a good PPC resource that's hand off I would check out these guys! Hope this helps someone that may be fed up with managing Google Ads or looking for a good source.
Find Out If Your Territory Is Still Available.
See what our
happy clients
have to say.
We're A Google Partner Agency
As a Google Partner Agency, we've joined the cream of the crop in PPC specialists. This designation is reserved for only a small fraction of Google Partners who have demonstrated a consistent track record of success.
Consider Complementary Marketing Campaigns
Google Ads is an excellent advertising strategy but not the only one. Successful plumbers also need to have an engaging social media presence such as a Facebook or Instagram account. These pros know to include keywords on their website to follow search engine optimization (SEO) best practices. Many look to a marketing agency to oversee their plumbing ads and provide other services.
Hire Professional Marketing Services
Effective use of Google Ads can be an enormous boost to plumbing companies that know how to use the system. If phrases like "cost per click," "keyword tool," and "SEO" make your head spin, you're in luck because the United States has a burgeoning digital marketing industry.
A digital marketing or advertising company can write ad copy for plumbers containing all the right keywords, spruce up your website, and run an SEO campaign while you sit back and let your team of plumbers do what they do best.
But be careful, as there are many unscrupulous "marketing experts" out there. Do your research to make sure you're getting a professional firm that won't use dirty tricks to artificially inflate your PPC numbers or otherwise try to take advantage of you. This is probably not a job that you can entrust to your cousin's teenage daughter who says, "Oh, I know how to do that." Ask for references and portfolios of previous work.
Tracking through analytics is an essential part of succeeding in your Google Ads campaign.
We'll track the results from your ads campaign diligently and use them to measure the effectiveness of your campaigns. We'll set up call tracking and contact form tracking down to the keyword level to enable us to optimize your campaigns and drive more inbound leads.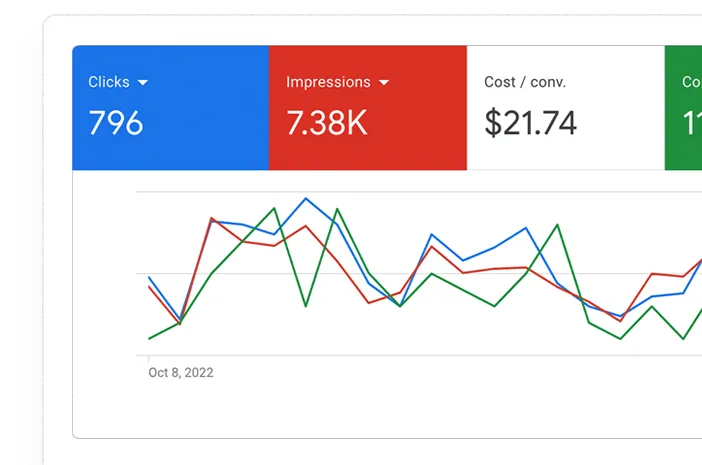 We offer unrivaled expertise and have a reputation for providing wildly successful results for our clients.
If you're in the plumbing industry, make the most of your marketing dollars. Contact us at Clicks Geek today to get started with Google Ads or to have our team analyze your current campaign. Have any questions? Our friendly team is always happy to answer them and offer guidance to implement the right plumbing marketing strategy.