Google Ads For
Mold Removal
& Remediation
Clicks Geek is a U.S.-Based Google Ads agency focused on increasing sales and leads for mold removal and remediation companies. We do this by driving quality traffic and delivering a superior landing page experience.
"Ed has invested thousands of painstaking hours into understanding the nuances of sales and marketing so his customers can prosper. He's a true professional in every sense of the word and someone I look to when I need advice."
Today, most people turn to search engines to find local products and services. As a business owner, you're always looking for new marketing and advertising strategies to stand out from the competition and reel in new prospects, right?
It's no surprise that many businesses in the mold remediation or restoration industry are turning to PPC ad placements. Real estate agents use PPC advertising and social media to stay ahead of the competition. If there's ever been a time to invest in PPC management for mold removal companies, the time is now.
One of the most productive forms of marketing your mold removal firm, PPC advertising can be a very efficient and cost-effective method of growing your business. Mold removal company owners–or their marketing team–can customize, easily evaluate, and control these advertisements to turn up the flow of phone calls coming into your firm.
PPC or 'Pay-Per-Click' marketing is an internet marketing strategy that leverages Google's search engine platform to put you directly in front of your customers at the moment they are searching Google for your exact product or services.
At Clicks Geek, a Partner Google Ads Management Agency – we can help you. Our team of experts has extensive experience helping mold removal companies get more qualified site traffic and convert more site visitors into leads and clients. We're just a phone call away. Reach out to us for a custom plan!
Ed's advice, information, and techniques have helped my business not only STAY OPEN these last few years, but GROW with consistency.
Take your business to the next level with a PPC agency that actually delivers.
What is Pay-Per-Click Advertising?
Also known as Google Ads, this platform is a PPC (pay-per-click) advertising network that businesses use to advertise their mold removal services to potential consumers directly. The network implements a pay-per-click auction system that allows you to display your business' website, products, and services to people who search for specific queries through Google's search engine.
The platform works the same way as search engine optimization; your ad's ranking determines your position whenever people search for mold removal and remediation services in your area. Google gives your advertisement a score that is determined by several things such as keywords and how relevant they are to the landing page.
Google Ads' main selling point is its specificity, which compels businesses to prefer Ads to old internet marketing platforms. Thanks to its specificity, you are able to make sure that your ad runs only when a potential customer visits a website with the terms for which you are bidding.
Google Ads also includes display advertisements with a tracking system that monitors a person's online activity and the website they visit, matching that person to advertisements about services or products of similar interests.
While setting up an Ads campaign for your mold removal and remediation company is easy, the system can be complicated, often taking a lot of time and effort for you to adapt. Furthermore, if you do not have a concrete understanding of the platform, your car wash business could be losing potential clients daily. This is why working with a management service provider is essential.
The guys at Clicks Geek are SEM experts and some of the most knowledgeable marketers on the planet. They are obviously well studied and I often wonder from where and how long it took them to learn all this stuff. They're leap years ahead of the competition and can make any industry profitable with their techniques, not just the software industry. They are legitimate and honest and I recommend him highly.
MOLD REMOVAL & REMEDIATION
What Are the Benefits of PPC Advertising?
PPC Ads have several benefits for mold removal and remediation businesses.
Proven 'Systemized Campaigns'

Effective mold removal PPC management is time consuming and very expensive if not done properly. We already have the campaigns set that convert and pull leads ever day. All we have to do is swap in your company info and turn them on in your location.

Leads Come to YOU

You can set up a Google Ads campaign in a matter of hours (24-48) and then, once your ad is live you can start to get clicks, leads and phone calls from it within literally several minutes to several hours after launching. People will be trying to find you and get pricing for mold removal and remediation.

100% Scalable Solution

Want more mold removal jobs? Simply let us know and we will work with you to dial up your campaigns to grab even more market share. Our program is totally customizable and tailored specifically to your mold removal business and goals.

Custom Landing Pages

We build a simple, PROVEN, battle tested, 1 page website that is a lead generating machine. Without this landing page the entire mold removal Google Ads campaign will not work. We've spent 100's of 1000's of dollars over the years perfecting this EXACT 'ugly' (ugly converts!) page for our clients to only deliver maximum results. We personalize it with your company's information and hit GO.

Custom Google Ads Campaign

Just like with our proven landing page designed to pull phone calls, we also have the Google Ads campaign refined down to a science. All we have to do is swap in your targeted locations, business info and your new landing page. That's it. We've generated thousands of leads with this campaign + landing page combo so it's ready to go, right now, today.

No Contracts... Ever

We're so confident in our system, we don't need to lock you into a contract. Cancel at ANY time.
Get a free consultation with ClicksGeek
Signing up for a PPC ad account is simple. You don't have to hire a PPC agency to set up and manage your campaign, but most owners lack the time, tools, and expertise required to maximize ROI.
Find Out If Your Territory Is Still Available.
See what our
happy clients
have to say.
We're A Google Partner Agency
As a Google Partner Agency, we've joined the cream of the crop in PPC specialists. This designation is reserved for only a small fraction of Google Partners who have demonstrated a consistent track record of success.
Mold Remediation PPC Ads Management
Contact us now to shift your mold removal and remediation business into high gear. Clicks Geek is the lead engine that your business needs to book more jobs and scale your mold removal and remediation company.
Our team tracks, measures and optimizes all campaign data on a weekly basis. We do this using Google's ad tracking system.
This is not guesswork for us. We already have the campaigns, ads, landing pages, etc that pull in REAL people who have an urgent need to get mold removal on auto-pilot. We systemized everything, so all we have to do is clone and deploy our marketing campaign into your location.
Our team is certified in both Google Ads and Bing Ads. We also take our professional competence seriously, honing our skills through continuing education, so all employees are well informed about the most recent search tactics. You can rest easy knowing you're working with one of the best in the business.
Tracking through analytics is an essential part of succeeding in your Google Ads campaign.
We'll track the results from your ads campaign diligently and use them to measure the effectiveness of your campaigns. We'll set up call tracking and contact form tracking down to the keyword level to enable us to optimize your campaigns and drive more inbound leads.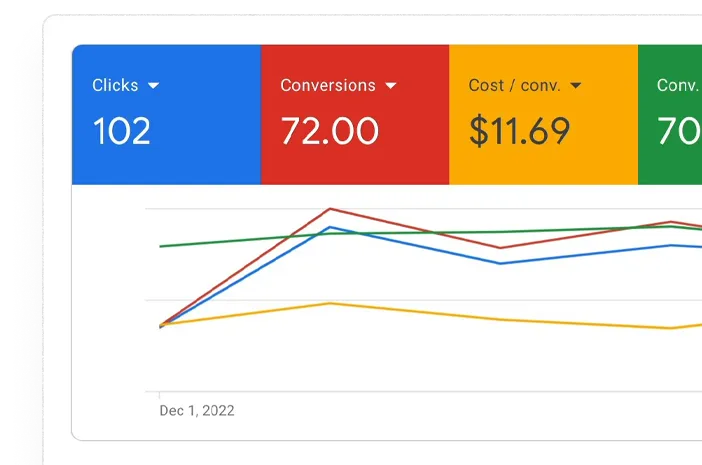 We offer unrivaled expertise and have a reputation for providing wildly successful results for our clients.
If you're in the mold removal industry, make the most of your marketing dollars. Contact us at Clicks Geek today to get started with Google Ads or to have our team analyze your current campaign. Have any questions? Our friendly team is always happy to answer them and offer guidance to implement the right mold removal marketing strategy.
Client Testimonial
Praise
Steven Cortez
Ed's a great dude! PPC expert all the way. I've had a couple phone calls with him. Very helpful and down to earth.
Max Reznich
I have Robert Salvatore saved in my phone as "PPC Whisperer" for a reason. The man can do things with a Google Ads campaign that I've never seen before. Thanks again brother.
Daniel Kichen
These guys are so awesome that even if they can't help you they will refer you to somebody who can. That doesn't happen often, good people.
Jeremy Bolton
Just wanted to give Ed Stapleton at Clicks Geek a recommendation if any of you guys are looking to outsource your google ads campaigns. Double my clients conversions within a month and now have a VERY happy client! Thanks Ed...
Stuart Trier
Ed & Rob over at Clicks Geek are great guys and do really good work. If you are looking for white label PPC management. They are honest and will tell you if they can't get you the results you are looking for... Highly endorse these guys.
Josh Nelson
I've heard nothing but good things about Ed Stapleton and his services... if you are looking for someone to help you manage your paid search campaigns he could be a great resource for you.