Clicks Geek is a U.S.-Based Google Ads agency focused on increasing sales and leads for lawyers and law firms. We do this by driving quality traffic and delivering a superior landing page experience.
"Ed has invested thousands of painstaking hours into understanding the nuances of sales and marketing so his customers can prosper. He's a true professional in every sense of the word and someone I look to when I need advice."
How are you getting new clients for your law firm?
Almost every law firm in the United States uses some form of digital marketing to get potential clients, making the advertising landscape incredibly competitive. Lawyers will use search engine optimization (SEO), Pay Per Click (PPC) marketing, and many other law firm marketing methods to reach their target audience.
If you haven't started on a Google Ads campaign, the chances are your competitors are snapping up leads before you can reach them. For this reason, it's time to invest in PPC marketing.
With the right strategy, Google Ads allows lawyers and law firms to connect in real-time with prospective clients looking for their services. You only pay when people click on your ad, which can direct visitors to your site or landing page, where you can encourage them to set up a consultation or generate a call to visit your site.
Ed's advice, information, and techniques have helped my business not only STAY OPEN these last few years, but GROW with consistency.
Take your business to the next level with a PPC agency that actually delivers.
The Benefits of Using Google Ads
Google Ads, previously known as Google AdWords, is a paid marketing service that puts your name at the top of various search results pages for specific keywords.
Google Ads campaigns run on an auction system, where various factors influence which ad gets shown for a particular keyword. You place your bid on set search terms beforehand, and Google uses an algorithm to decide whether or not to show your ad for that specific search.
The higher the quality of your website and the more you bid per click, the more likely it is that you'll get plenty of eyes on your landing page.
Since these are pay per click ads, you will pay anywhere from a few cents to a few dollars each time someone clicks the link to your site. Pricing depends on the topic and level of competition. For law offices, ad bids can be relatively high.
Due to PPC's high cost, there have to be some incredible benefits to make law firms consider using it. And, luckily for your law practice, there are plenty of perks that make PPC appealing.
The guys at Clicks Geek are SEM experts and some of the most knowledgeable marketers on the planet. They are obviously well studied and I often wonder from where and how long it took them to learn all this stuff. They're leap years ahead of the competition and can make any industry profitable with their techniques, not just the software industry. They are legitimate and honest and I recommend him highly.
First off, PPC brings interested parties to your website. Prospective clients have to look for your specific type of service to see your landing page, meaning that they already know they need the services your law firm offers. With PPC, you aren't wasting money on uninterested audiences.
Once you've placed your first bid, the results from a Google Ad campaign are immediate. You'll be able to see more leads visiting your landing page in as little as five minutes, and your stable of prospective clients will keep increasing as long as you pay for the ads.
Obtaining new clients is about more than just generating leads, and Google Ads has a comprehensive set of metrics available to every law office. You can evaluate every aspect of your PPC campaign, from the number of leads to what every conversion costs.
Since PPC campaign results are immediate and measurable, you can use various tweaks to increase your leads and ensure that you're making the most of the tools available to you.
Check to see if your territory is available still!
Signing up for a PPC ad account is simple. You don't have to hire a PPC agency to set up and manage your campaign, but most attorneys don't have the time, tools, and expertise required to maximize ROI.
Find Out If Your Territory Is Still Available.
See what our
happy clients
have to say.
We're A Google Partner Agency
As a Google Partner Agency, we've joined the cream of the crop in PPC specialists. This designation is reserved for only a small fraction of Google Partners who have demonstrated a consistent track record of success.
Aspects of Google Ads for Lawyers That Lead to Success
While the basic premise of Google Ads is relatively simple, there are many nuances and pitfalls which make ad campaigns incredibly costly and unrewarding.
Many law firms will try PPC only to find that the cost per click is too high, meaning that they're losing money for every new client they get. Lack of research, a low conversion rate, high search volumes, and poor-quality ad copy will result in an expensive PPC campaign that fails to attract new clients.
In many cases, these ads end up costing you far more than they give back in revenue. However, addressing each one will refine your ads and lower your cost per lead.
High-Converting Landing Pages
Many online companies are spending a lot of money for no reward. The typical conversion rate for a standard landing page is between 5% and 15%. This rate means that less than one in five people who visit a page become clients.
There are plenty of ways to make a high-quality landing page that promotes lead generation. It all starts with a compelling call to action and inviting design. The content and images should guide the reader to a call to action that makes them want to sign up at that moment.
The higher your conversion percentage, the more cost-effective your PPC strategy becomes.
Google Ads doesn't just look at what you're willing to bid; it also evaluates the quality of your copy and will favor putting up a high-quality score page over a low-scoring one.
You need copy that sets your law firm up as a thought leader that provides exciting and essential content.
Thorough Keyword Research
Google uses keywords to determine what content to place on search results pages. The law market is saturated with different firms vying for a specific keyword choice, which raises the price of using that search term.
While using high search volume terms may seem attractive, this exposes your firm to more competition. It is often better to spend some time strategically planning your key terms instead of competing for the most competitive ones.
For example, the term "Personal injury law firm in Dallas" is more specific than "Dallas attorney."
Tracking through analytics is an essential part of succeeding in your Google Ads campaign.
We'll track the results from your ads campaign diligently and use them to measure the effectiveness of your campaigns. We'll set up call tracking and contact form tracking down to the keyword level to enable us to optimize your campaigns and drive more inbound leads.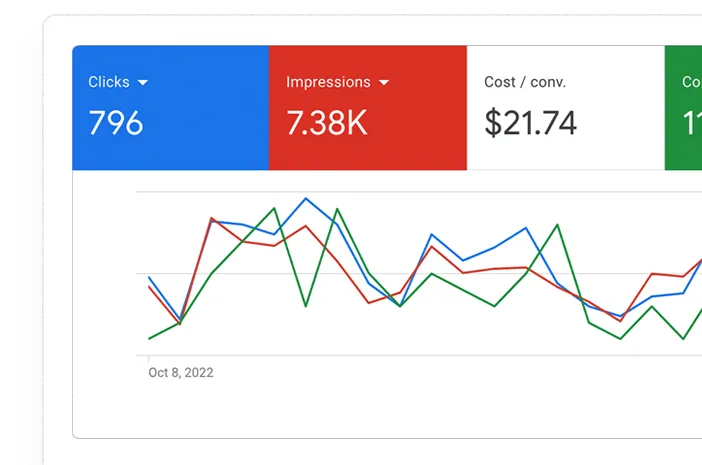 We offer unrivaled expertise and have a reputation for providing wildly successful results for our clients.
If you're in the HVAC industry, make the most of your marketing dollars. Contact us at Clicks Geek today to get started with Google Ads or to have our team analyze your current campaign. Have any questions? Our friendly team is always happy to answer them and offer guidance to implement the right HVAC marketing strategy.
What Makes Us the Best Choice for Law Firm Marketing?
Most lawyers want to concentrate on their work, not on working out what keywords to use on their paid search campaign. Google Ads is full of nuance and complexity, and having someone with experience on your side is invaluable.
Proven Google AdWords Campaigns
While we tailor every aspect of your PPC strategy to your particular situation, there are some aspects that we've already worked out. We know how to build landing pages that convert leads, how to bid on Google Ads keywords, and how to minimize costs.
Using a proven template, we can hit the ground running and generate leads as soon as possible.
Scalable Solutions as Your Law Firm Grows
Whether your firm is big or small, we have the PPC solution for you, and we can adapt it to your changing needs. If you've got more leads than you can handle, we can tone down the volume of Google Ads we buy. If you want more, we can quickly scale up while remaining cost-effective.
We also use our experience to predict changing market conditions to adapt our strategy and meet your firm's needs.
A Comprehensive Digital Marketing Plan for Law Firms
We handle every aspect of your PPC strategy. We'll review the website design, set up a keyword planner, and write a call to action that will generate leads.
In many cases, we view PPC as part of a broader digital marketing strategy and are willing to handle every facet of this strategy for our clients. While PPC produces short-term wins, we can incorporate different methods to make more cost-effective, long-term leads without the need for paid ads.
Adaptability to Changing Conditions
PPC isn't a set-it-and-forget-it method of marketing. Rather, it requires constant attention. Tactics that worked last week may not necessarily work today, which is why we'll tweak our Google Ads strategy according to changing conditions.
We continuously monitor various metrics and rely on our experience to anticipate issues and guarantee performance, no matter what the digital marketing landscape looks like at the time.
Speak with us today to learn more.
Our PPC Management Strategy
We offer wholesale solutions that encompass every aspect of your PPC strategy, from start to finish.
That way, each client can focus on running their law firm. We also provide each client with regular and detailed reports that show their PPC campaign's progression. Our constant monitoring enables us to tweak the advertisement's underperforming aspects for better results. To get started with running a Google ad that boosts your visibility, traffic, leads, conversion rate, and earnings, get in touch with us today.
Consultation

When we first get started, we'll go through your business, identify all your goals, and decide on the best strategy moving forward. Every business is different, and our knowledge of the real estate investor space allows us to tailor campaigns and landing pages specifically for you.

Keyword Research

PPC campaigns live and die by keywords. We identify winning target keywords, such as "sell my house," to get you connect with any motivated seller in your area. We also include negative keywords to hone in on the clients you want. We never stop researching and will adapt our keyword strategy to keep costs low and leads high.

Lawyer PPC Metrics

We use call tracking, conversion tracking, and many other metrics to guide your marketing strategy. If we notice an ad isn't working at all or that we're targeting the wrong space, we'll adjust accordingly to get you the best results.

Comprehensive Reporting

All of our clients get regular reports on how their campaigns are performing. If you have any queries about your ad report, we're just a phone call away.

It's Time to Get More Leads

Our PPC ads campaigns will help you grow and remain competitive. Get in touch today to start the process.
Client Testimonial
Praise
Steven Cortez
Ed's a great dude! PPC expert all the way. I've had a couple phone calls with him. Very helpful and down to earth.
Max Reznich
I have Robert Salvatore saved in my phone as "PPC Whisperer" for a reason. The man can do things with a Google Ads campaign that I've never seen before. Thanks again brother.
Daniel Kichen
These guys are so awesome that even if they can't help you they will refer you to somebody who can. That doesn't happen often, good people.
Jeremy Bolton
Just wanted to give Ed Stapleton at Clicks Geek a recommendation if any of you guys are looking to outsource your google ads campaigns. Double my clients conversions within a month and now have a VERY happy client! Thanks Ed...
Stuart Trier
Ed & Rob over at Clicks Geek are great guys and do really good work. If you are looking for white label PPC management. They are honest and will tell you if they can't get you the results you are looking for... Highly endorse these guys.
Josh Nelson
I've heard nothing but good things about Ed Stapleton and his services... if you are looking for someone to help you manage your paid search campaigns he could be a great resource for you.