Google Ads For
Foundation Repair
Clicks Geek is a U.S.-Based Google Ads agency focused on increasing sales and leads for foundation repair companies. We do this by driving quality traffic and delivering a superior landing page experience.
"Ed has invested thousands of painstaking hours into understanding the nuances of sales and marketing so his customers can prosper. He's a true professional in every sense of the word and someone I look to when I need advice."
How Do You Generate More Business For Your Foundation Repair Company?
Google Ads are a profitable way to entice prospective clients to visit your foundation repair company webpage. Each prospect becomes a lead, and once they visit your website and read your message, you have a great opportunity to solicit their business.
With pay-per-click (PPC) ad pricing, you pay only for the times when a potential customer actually clicks on your ad, which then takes them to your website.
However, be sure to keep several things in mind to help your business rocket to the top of the search results:
With so many foundation repair marketing strategies and techniques on the advertising menu, it may be smart to team up with a digital advertising firm to make sure you're spending your marketing budget in a way that offers the best return on your investment (ROI).
Consider these questions as your foundation repair company embarks on a Google Ads campaign.
With the right strategy, Google Ads allows a foundation repair company to connect in real-time with prospective clients looking for their services. You only pay when people click on your ad, which can direct visitors to your site or landing page, where you can encourage them to set up a consultation or generate a call to visit your site.
Ed's advice, information, and techniques have helped my business not only STAY OPEN these last few years, but GROW with consistency.
Take your business to the next level with a PPC agency that actually delivers.
What is Pay-Per-Click (PPC) Advertising?
Google Ads work on a pay-per-click advertising model. This means that businesses pay a set amount whenever a searcher clicks on one of their ads. This is a good use of your foundation repair marketing budget because you'll only pay for ads that lead individuals to your website.
PPC ads show up at the top of search engines' result pages. You want to make sure that your listing shows up before your competitor's name. This is especially important for individuals who search on their mobile phone since they view a smaller field of search results.
Foundation repair companies appreciate PPC because it offers good ROI. You only pay when your ad provides you with a new lead. This means you can set a monthly marketing budget to attract a steady stream of new customers without overwhelming your marketing fund. You can also turn it off if you are winding up with more foundation repair jobs than your team can handle.
You may want to hire a marketing agency to help plan your PPC campaign. Reputable marketing firms often charge on a pay per lead basis as well, so they have much incentive to bring in a lot of business for you. 
That way, you don't waste time spinning your wheels, which frees you up to focus on serving those new customers. A marketing agency may also be able to help you with:
The guys at Clicks Geek are SEM experts and some of the most knowledgeable marketers on the planet. They are obviously well studied and I often wonder from where and how long it took them to learn all this stuff. They're leap years ahead of the competition and can make any industry profitable with their techniques, not just the software industry. They are legitimate and honest and I recommend him highly.
How Can a Google Ads Campaign Contribute to My Foundation Repair Company's Brand?
You want ads (and a website) that demonstrate that you're a credible authority in the foundation repair industry. Your ads can communicate that your company provides superior service, covers a large area, has the wisdom that comes with age, and is happy to answer your customers' questions – and you know they have a lot. You want to outshine your competitors in the game by offering the most valuable online information on your webpages.
In fact, if your foundation repair firm has won praising comments from clients or accolades from peers, you will want to emphasize that in your marketing. Remember, a strong and impressive brand turns leads into customers.
If you specialize in a particular type of foundation repair, such as basement waterproofing, you might want to emphasize each of those areas as well, both in your choice of keywords and also on your website. When determining rankings, internet search engines prefer to show people ads that best address their key terms. So if you perform structural engineering, add that to your keyword list so that searchers looking to fix their homes know your company can provide that service to them.
For this reason, it's also good to specify your geographical service area, so if someone is searching for foundation repair companies in your territory, your team will show up in their results. A good foundation repair marketing campaign will show ads to people in all the cities and neighborhoods where you provide service. If you're based in one city but also work in the next town over, make sure your advertising account includes the second municipality's name so you'll show up in search results for services in that town, too.
On the other hand, businesses sometimes see their advertising campaigns stall because they've spent all their funds paying for clicks when searchers were seeking services they did not provide. If your company performs foundation repair for residences but not commercial properties, you'll want to create a list of "negative keywords" to exclude so that you don't wind up paying for PPC advertising that doesn't help you grow.
Check to see if your territory is available still!
Signing up for a PPC ad account is simple. You don't have to hire a PPC agency to set up and manage your campaign, but most foundation repair contractors and companies lack the time, tools, and expertise required to maximize ROI.
Client Testimonial
Praise
Steven Cortez
Ed's a great dude! PPC expert all the way. I've had a couple phone calls with him. Very helpful and down to earth.
Max Reznich
I have Robert Salvatore saved in my phone as "PPC Whisperer" for a reason. The man can do things with a Google Ads campaign that I've never seen before. Thanks again brother.
Daniel Kichen
These guys are so awesome that even if they can't help you they will refer you to somebody who can. That doesn't happen often, good people.
Jeremy Bolton
Just wanted to give Ed Stapleton at Clicks Geek a recommendation if any of you guys are looking to outsource your google ads campaigns. Double my clients conversions within a month and now have a VERY happy client! Thanks Ed...
Rob Pene
If you want to go after Google Ads clients, GET THESE GUYS ON YOURS SIDE!! They're a amazing white label outsourced providers and very very very good. They've got solid case studies and data that you can use in your email outreach. They're available to answer questions, they're down to earth. Hit up Ed Stapleton or Robert Salvatore and ask about their white label solution and how they can help you grow your business. 
Mike Aileni
I was looking for a reliable company to perform an audit for my Google Ads account and I came across Ed Stapleton from Clicks Geek. He was amazing to work with. Very professional I must say. His company performed the audit and got to us within one business day with a full report. Thank you again Ed Stapleton for the wonderful service. I highly recommend you and your company to anyone looking for Google Ads, or Audits, or account management.
Find Out If Your Territory Is Still Available.
See what our
happy clients
have to say.
We're A Google Partner Agency
As a Google Partner Agency, we've joined the cream of the crop in PPC specialists. This designation is reserved for only a small fraction of Google Partners who have demonstrated a consistent track record of success.
I've Got Leads on the Hook: Now What?
Good job! Your PPC advertising is working! Now it's time to close the deal. Each search results ad will lead searchers to the landing page of your choice. Smart businesses develop different landing pages to fit different things potential clients may be interested in.
For example, you might set up a page on your website for emergency foundation repair. When someone searches for "24-hour foundation repair," Google will show them an ad that leads to your emergency page. This not only funnels leads to your website – it improves your advertising account in search engines' eyes because it shows services to address a specific problem a user may face.
Wherever your ad links to your website, make sure your business site has convenient and prominently displayed contact information, including your phone number and email address, plus a helpful menu and a contact form where a lead can fill in their own details so you can collect them and send a follow-up message.
I Have Questions. Can I Get Some Help?
Your business may provide excellent foundation repair services, but foundation repair marketing is a whole different game. If terms like conversion rates, email marketing, child media, and internet SEO make your head spin, it may be time to hire a marketing agency to take over part of your promotional work.
A marketing business can do a lot to drum up leads and then convince them to hire your foundation team. You can even find marketing professionals who specialize in foundation repair marketing, and they can improve your results further. These experts can get your website to the front of the line when people turn to search engines to choose a contractor. Marketing pros can also do more, such as SEO, which provides links to your site in unpaid search engines' results.
Hiring a marketing expert to lend a hand should be a vital component of your advertising strategy, and a good firm can lead you to more customers. That's the best part since it will allow your business to thrive and even expand into more territory. Call a foundation repair marketing firm today!
Tracking through analytics is an essential part of succeeding in your Google Ads campaign.
We'll track the results from your ads campaign diligently and use them to measure the effectiveness of your campaigns. We'll set up call tracking and contact form tracking down to the keyword level to enable us to optimize your campaigns and drive more inbound leads.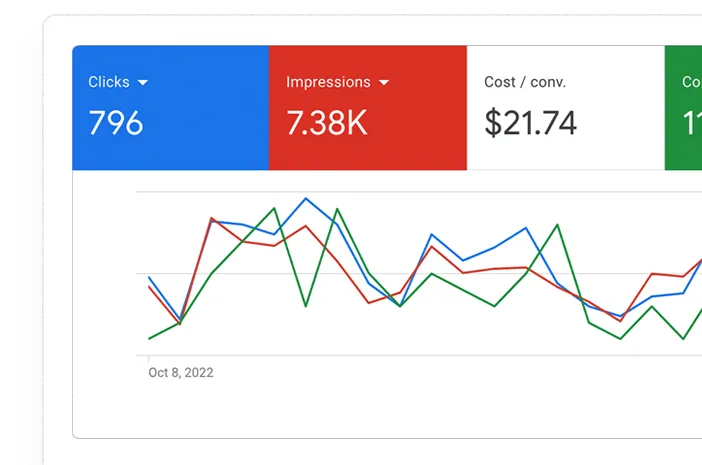 We offer unrivaled expertise and have a reputation for providing wildly successful results for our clients.
If you're in the foundation repair  industry, make the most of your marketing dollars. Contact us at Clicks Geek today to get started with Google Ads or to have our team analyze your current campaign. Have any questions? Our friendly team is always happy to answer them and offer guidance to implement the right foundation repair marketing strategy.