Google Ads For
Fencing Companies
Clicks Geek is a U.S.-Based Google Ads agency focused on increasing sales and leads for fencing companies. We do this by driving quality traffic and delivering a superior landing page experience.
"Ed has invested thousands of painstaking hours into understanding the nuances of sales and marketing so his customers can prosper. He's a true professional in every sense of the word and someone I look to when I need advice."
Generating More Fencing Clients For Your Business
At one point, the hundreds of homes and business premises within your community will require a fencing contractor, and you must always be there with the solution whenever they search online for reliable services.
Google Ads is an excellent answer for fencing contractors who are out to generate leads, increase conversions, and grow their bottom lines.
Of course, you may have some background knowledge on how to use the PPC marketing platform. But working with a reliable management agency for your fencing business' AdWords marketing will ensure you get the best results much quicker.
With the right strategy, Google Ads allows fencing companies to connect in real-time with prospective clients looking for their services. You only pay when people click on your ad, which can direct visitors to your site or landing page, where you can encourage them to set up a consultation or generate a call to visit your site.
Ed's advice, information, and techniques have helped my business not only STAY OPEN these last few years, but GROW with consistency.
Take your business to the next level with a PPC agency that actually delivers.
What a Google Ads Management Agency Will Do for You
For fencing contractors who'd love to get the most out of Google Ads, the decision on whether to handle the project by themselves or outsource to a campaign manager is usually a hard one. Still, it's among the most crucial and therefore requires lots of consideration.
Managing your fencing business' Google Ads campaign may give you more insight into your business progress and performance. However, several factors would demand that you outsource the service. These include:
They have the expertise

Even if you're interested in doing the job by yourself, you must first learn the art. The best way to become sufficiently knowledgeable is to learn from the best. After partnering with an AdWords management agency on several ad campaigns, you'll gain the necessary expertise to run things on your own.

Cost efficiency

An experienced Google Ads management agency will assist you with everything you need to generate more revenue from your ad campaign. They'll create strategies that will ensure your brand attracts more customers, and they are in the best position to ensure optimal use of your advertising budget.

Constantly evolving PPC management platforms

As technology advances, so do the dynamics of Google Ads. Fencing contractors are finding it too difficult to grasp the concepts. PPC experts understand these changes and can design practical approaches for different business contexts.

Precision

Most fencing experts who decide to manage their ad campaigns usually adopt simple methodologies. However, a campaign manager can implement more complex approaches to get accurate insights. These agencies also have knowledgeable staff and the right data interpretation and result testing tools.

Time maximization

You're already busy improving and maintaining other facets of your fencing company. Learning the PPC advertising intricacies will drain your efforts and consume lots of your time. An outsourced PPC campaign manager will relieve you of the burden, allowing you to focus on growing your company.

The struggle of recruiting and training on-premise PPC experts

If you have a small marketing department handling all your lead generation campaigns and sales, the team may end up overwhelmed. Also, finding the right talent for the job is not as easy in practice as it is in theory. Outsourcing remains the best alternative to relieve you from the struggle.

No learning curve

The job will be handled optimally from day one, and there will be no disruptions in expected output. Rather, you may begin seeing results in no time. For you to effectively grow your fencing company, you'll need a reliable partner to help you get it right.
The guys at Clicks Geek are SEM experts and some of the most knowledgeable marketers on the planet. They are obviously well studied and I often wonder from where and how long it took them to learn all this stuff. They're leap years ahead of the competition and can make any industry profitable with their techniques, not just the software industry. They are legitimate and honest and I recommend him highly.
A Google Premier Partner Agency That Can Deliver
There are a few Google Ads management platforms for fencing contractors that have achieved the highest possible ranking of "Premier Partner." Such agencies accomplish this prestigious accolade by building a solid reputation among fencing professionals in Philadelphia and beyond in the following ways:
Experts Are Skilled and Certified
The company recruits qualified and dedicated professionals with all it takes to guide you to your lead generation goals. The team comprises of in-house, U.S.-based talents with the right qualifications and certification to deliver in both Bing Ads and Google Ads. What's more, they undergo continuous education and are therefore up to date with what is going on in the industry.
They Can Customize Your Landing Pages
One-size-fits-all approaches are no longer applicable in today's marketing world. That's why premiere AdWords management agencies are able to offer you custom landing pages for a personalized experience.
Their Services Are Conversion-Centered
They create their ad campaigns to achieve optimal conversion rates. Furthermore, they continue tweaking crucial aspects like landing pages, keywords, and ads to align with your fencing company's conversion goals throughout your partnership with them.
Client Testimonial
Praise
Steven Cortez
Ed's a great dude! PPC expert all the way. I've had a couple phone calls with him. Very helpful and down to earth.
Max Reznich
I have Robert Salvatore saved in my phone as "PPC Whisperer" for a reason. The man can do things with a Google Ads campaign that I've never seen before. Thanks again brother.
Daniel Kichen
These guys are so awesome that even if they can't help you they will refer you to somebody who can. That doesn't happen often, good people.
Jeremy Bolton
Just wanted to give Ed Stapleton at Clicks Geek a recommendation if any of you guys are looking to outsource your google ads campaigns. Double my clients conversions within a month and now have a VERY happy client! Thanks Ed...
Jacob Kettner
Quick shout-out to Robert Salvatore over at Clicks Geek. I was on a call with Mark Luckenbaugh yesterday bitching about a Google Ads campaign that wasn't converting well, and he suggested I talk to Robert. I hit him up yesterday in the afternoon, and by 8:30AM this morning he'd done a complete audit of the campaign and laid out actionable steps for me to take to improve both CTR and costs as well as how I'm tracking, and the way I'm targeting keywords.  I can honestly say I learned more about Google Ads from his audit than I did from the last Google Ads course I took.
Brant Scheifler
Quick tip of the hat to Ed and Robert on the PPC front. I sent them a PPC campaign a couple months back for one of my local clients. Theya re killing it both on CPC and CPL. I honestly hate managing PPC, and even though Rob would attest to me knowing more about Google Ads than him (actually not really he would never say that nor is it true), I prefer to not have to look at PPC campaigns whenever possible. So, just wanted to say that if you need a good PPC resource that's hand off I would check out these guys! Hope this helps someone that may be fed up with managing Google Ads or looking for a good source.
Find Out If Your Territory Is Still Available.
See what our
happy clients
have to say.
We're A Google Partner Agency
As a Google Partner Agency, we've joined the cream of the crop in PPC specialists. This designation is reserved for only a small fraction of Google Partners who have demonstrated a consistent track record of success.
What Fencing Contractors Should Expect From Management Agencies
Fencing companies' PPC campaign management experts understand the best ways of revealing your unique selling proposition (USP) to your prospects right when they need a local company to offer the service. Here's what to generally expect from Google Ads management agencies:
Preliminary Consultation

The consultation process involves studying your current approach, closest business rivals, audience, and goals. With sufficient insights, experts will develop a practical strategy to deliver the best results.

Broad Keyword Research

High-value, high-intent keywords are the best ingredient for a successful PPC campaign. The agency will help you identify the right key phrases for your campaign's highest conversion rates and optimal performance.

Campaign Bid Management

Despite being a simple concept, most fencing contractors waste their time and resources acquiring fancy solutions that have no impact. Management agencies help you eliminate the keywords with no value and replace them with those having a higher lead-generation potential.

Custom Landing Pages

The only way to ensure the highest conversions is by customizing landing pages. The pages an ad management agency works on lead to conversion rates that are much higher than those you would achieve were you to build your landing pages yourself.

Creation and Testing of Ad Copy

This vital component of your Google Ads campaign ensures that the searched keyword appears in the ad, showing how users can solve the problem via our USP.

Custom Reporting

In most cases, you'll receive an email report highlighting the ad campaign activity in your AdWords account during the past week. You can compare the current previous week's performance to see the progression.

Campaign Optimization and Fine-Tuning Every Week

Every week, they'll monitor how your PPC campaign performs, doing this by analyzing the conversions and click data. The agency will then know the regular and occasional adjustments and tweaks to make to your campaign to ensure optimal performance. Your perfectly optimized content goes here!
Find Out If Your Territory Is Still Available.
Tracking through analytics is an essential part of succeeding in your Google Ads campaign.
We'll track the results from your ads campaign diligently and use them to measure the effectiveness of your campaigns. We'll set up call tracking and contact form tracking down to the keyword level to enable us to optimize your campaigns and drive more inbound leads.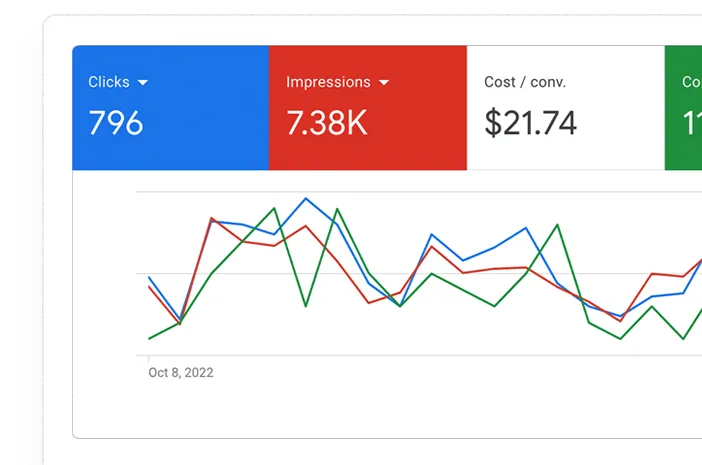 We offer unrivaled expertise and have a reputation for providing wildly successful results for our clients.
If you're in the fencing industry, make the most of your marketing dollars. Contact us at Clicks Geek today to get started with Google Ads or to have our team analyze your current campaign. Have any questions? Our friendly team is always happy to answer them and offer guidance to implement the right fencing contractor marketing strategy.