Google Ads For
Estate Planning Lawyers
Clicks Geek is a U.S.-Based Google Ads agency focused on increasing sales and leads for estate planning lawyers. We do this by driving quality traffic and delivering a superior landing page experience.
"Ed has invested thousands of painstaking hours into understanding the nuances of sales and marketing so his customers can prosper. He's a true professional in every sense of the word and someone I look to when I need advice."
How do you look for new family law clients?
When it comes to pay-per-click (PPC) advertising, every dollar counts. Given the increasing competitiveness of the legal marketplace and the ever-rising cost of PPC, an effective and efficient advertising budget is crucial. That's where we at ClicksGeek come into the picture.
We are a premier partner Google Ads management agency that leverages the Google Ads platform to put your family law practice directly in front of your target audience. We manage your Google Ads account and target keywords that will drive clients to your website.
Pay-per-click advertising can be highly effective if you know what you're doing. If not, you could be paying for the wrong traffic. You have to set up your PPC advertising campaign properly and monitor it regularly.
With the right strategy, Google Ads allows family lawyers to connect in real-time with prospective clients looking for their services. You only pay when people click on your ad, which can direct visitors to your site or landing page, where you can encourage them to set up a consultation or generate a call to visit your site.
Ed's advice, information, and techniques have helped my business not only STAY OPEN these last few years, but GROW with consistency.
Take your business to the next level with a PPC agency that actually delivers.
Google Ads is your firm's direct link to the top of Google search engine results pages (SERPs). Unlike SEO (search engine optimization), which can require extensive periods of complex analysis and execution, Google Ads is a pay-per-click advertising system.
That means your law firm displays at the top of the SERPs almost instantly, and you only pay for advertising when a potential client sees and clicks your ad to visit your website.
Pay-per-click advertising is a great advertising method for search engines because it delivers highly qualified prospects. When someone searches a keyword relevant to your practice area, sees your ad in search results, then clicks the ad to visit your website, you can be fairly confident they need your legal service. 
They were searching for a family law firm, after all. Pay-per-click is a win-win-win digital marketing strategy. The search engine wins because they get paid for the clicks. The client wins because they discover a reputable firm. And you, the advertiser, win because you get a highly potential client.
The guys at Clicks Geek are SEM experts and some of the most knowledgeable marketers on the planet. They are obviously well studied and I often wonder from where and how long it took them to learn all this stuff. They're leap years ahead of the competition and can make any industry profitable with their techniques, not just the software industry. They are legitimate and honest and I recommend him highly.
Does Google Ads Work Well for Family Lawyers?
Google Ads can have a significant impact on the amount of business your firm receives.
Using the Google Ads platform, however, can be tricky and expensive for beginners. Even though you only pay for clicks, those clicks can be quite costly in certain instances. So, it's crucial to know what you're getting into. You also want to hire a professional to manage and maximize every ad campaign.
At ClicksGeek, we partner with family lawyers to develop targeted, cost-effective, and strategic Google Ads campaigns tailored to reach the clients they want. Our experience means we know how to drive real business results and keep the cost per click within your budget.
Check to see if your territory is available still!
Signing up for a PPC ad account is simple. You don't have to hire a PPC agency to set up and manage your campaign, but most family attorneys and lawyers lack the time, tools, and expertise required to maximize ROI.
Find Out If Your Territory Is Still Available.
See what our
happy clients
have to say.
We're A Google Partner Agency
As a Google Partner Agency, we've joined the cream of the crop in PPC specialists. This designation is reserved for only a small fraction of Google Partners who have demonstrated a consistent track record of success.
Google Ads Management from Start to Finish
Family law is complex enough; you shouldn't need to waste your valuable time trying to figure out the best Google Ads strategy for your firm. Our comprehensive Google Ads management services provide everything from a custom keyword strategy and elaborate ad copy to detailed analysis and reporting. All you need to do is start preparing to expand your client base.
Extensive Keyword Research

Our Google Ads experience means we're experts at identifying the keywords your potential clients are using when searching for a family lawyer online. We take into account numerous factors to transform Google searches into new business for your firm.

Custom Landing Pages That Convert

Your landing pages have a significant impact on your conversion rate. To improve your client conversion rates, we craft landing pages designed to convert. That's one of the reasons our client campaigns convert way above the industry average.

We make it our priority to increase your leads and generate more clients from your campaign. If you already have an in-house design team and prefer them to design your pages, we will help consult them on the design elements of what we need for the pages at no extra cost.

Integrated Strategy

Our Google Ads strategies work for the long term. Once we've understood your firm, services, clients, and USP (unique selling proposition), we'll design pay-per-click strategies that drive traffic to your digital front door.

Ad Copy Creation and Testing

Turning pay-per-click campaigns into new business involves more than just getting the technical things right. Your ads need to be compelling enough to make people want to click and find out more about your company. The right ad copy will also make sure the keyword searched brings up an ad that talks about solving the user's problem via your unique selling proposition. At ClicksGeek, we create ads that promote your firm and test them continually to ensure they're generating leads and meeting your expectations.

Ongoing Campaign Optimization

Many Google Ads management agencies make the mistake of taking a "set it and forget it" approach to advertising. That's not the way we do things. We continuously refine and optimize your campaign to lower your pay-per-click costs while increasing the number of prospect inquiries you receive.

Custom Detailed Reporting

Google Ads is not only effective for digital marketing; your firm can also use it to track your campaigns with remarkable accuracy. Every week, we'll email a report detailing the last seven days of Google Ads account activity from your campaign. The report will also compare your new week to the previous week, so you'll be able to monitor progression. We also use this data to detail our successes and areas that need improvement.

Bottom Line

Google Ads is an amazing platform for family lawyers looking to generate more business and increase their revenue. Both small and large firms can take advantage of pay-per-click advertising to grow their businesses. What sets successful family law firms apart from the competition is how well they implement advanced techniques to manage their Google Ads account.

At ClicksGeek, we are committed to setting up outstanding Google Ads campaigns for our clients. When you work with us, you can expect a steady increase in traffic and inquiries about your services. Our team will do an impressive job of managing the leads and converting them into paying clients, translating into quantifiable positive returns and achieve sustainable growth for your legal practice.
Client Testimonial
Praise
Steven Cortez
Ed's a great dude! PPC expert all the way. I've had a couple phone calls with him. Very helpful and down to earth.
Max Reznich
I have Robert Salvatore saved in my phone as "PPC Whisperer" for a reason. The man can do things with a Google Ads campaign that I've never seen before. Thanks again brother.
Daniel Kichen
These guys are so awesome that even if they can't help you they will refer you to somebody who can. That doesn't happen often, good people.
Jeremy Bolton
Just wanted to give Ed Stapleton at Clicks Geek a recommendation if any of you guys are looking to outsource your google ads campaigns. Double my clients conversions within a month and now have a VERY happy client! Thanks Ed...
Jacob Kettner
Quick shout-out to Robert Salvatore over at Clicks Geek. I was on a call with Mark Luckenbaugh yesterday bitching about a Google Ads campaign that wasn't converting well, and he suggested I talk to Robert. I hit him up yesterday in the afternoon, and by 8:30AM this morning he'd done a complete audit of the campaign and laid out actionable steps for me to take to improve both CTR and costs as well as how I'm tracking, and the way I'm targeting keywords.  I can honestly say I learned more about Google Ads from his audit than I did from the last Google Ads course I took.
Brant Scheifler
Quick tip of the hat to Ed and Robert on the PPC front. I sent them a PPC campaign a couple months back for one of my local clients. Theya re killing it both on CPC and CPL. I honestly hate managing PPC, and even though Rob would attest to me knowing more about Google Ads than him (actually not really he would never say that nor is it true), I prefer to not have to look at PPC campaigns whenever possible. So, just wanted to say that if you need a good PPC resource that's hand off I would check out these guys! Hope this helps someone that may be fed up with managing Google Ads or looking for a good source.
Find Out If Your Territory Is Still Available.
Tracking through analytics is an essential part of succeeding in your Google Ads campaign.
We'll track the results from your ads campaign diligently and use them to measure the effectiveness of your campaigns. We'll set up call tracking and contact form tracking down to the keyword level to enable us to optimize your campaigns and drive more inbound leads.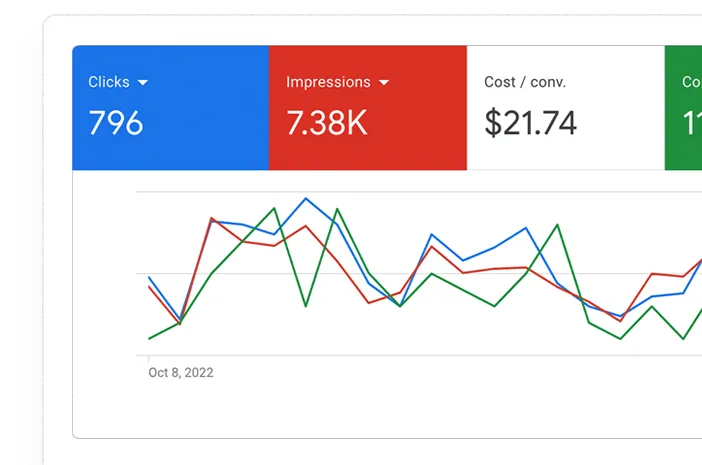 We offer unrivaled expertise and have a reputation for providing wildly successful results for our clients.
If you're in the family law industry, make the most of your marketing dollars. Contact us at Clicks Geek today to get started with Google Ads or to have our team analyze your current campaign. Have any questions? Our friendly team is always happy to answer them and offer guidance to implement the right family law marketing strategy.
Our PPC Management Strategy
We offer wholesale solutions that encompass every aspect of your PPC strategy, from start to finish.
When we first get started, we'll go through your business, identify all your goals, and decide on the best strategy moving forward. Every business is different, and our knowledge of the family law space allows us to tailor campaigns and landing pages specifically for you.
PPC campaigns live and die by keywords. We identify winning target keywords, such as "sell my house," to get you connect with any motivated seller in your area. We also include negative keywords to hone in on the clients you want. We never stop researching and will adapt our keyword strategy to keep costs low and leads high.
We use call tracking, conversion tracking, and many other metrics to guide your marketing strategy. If we notice an ad isn't working at all or that we're targeting the wrong space, we'll adjust accordingly to get you the best results.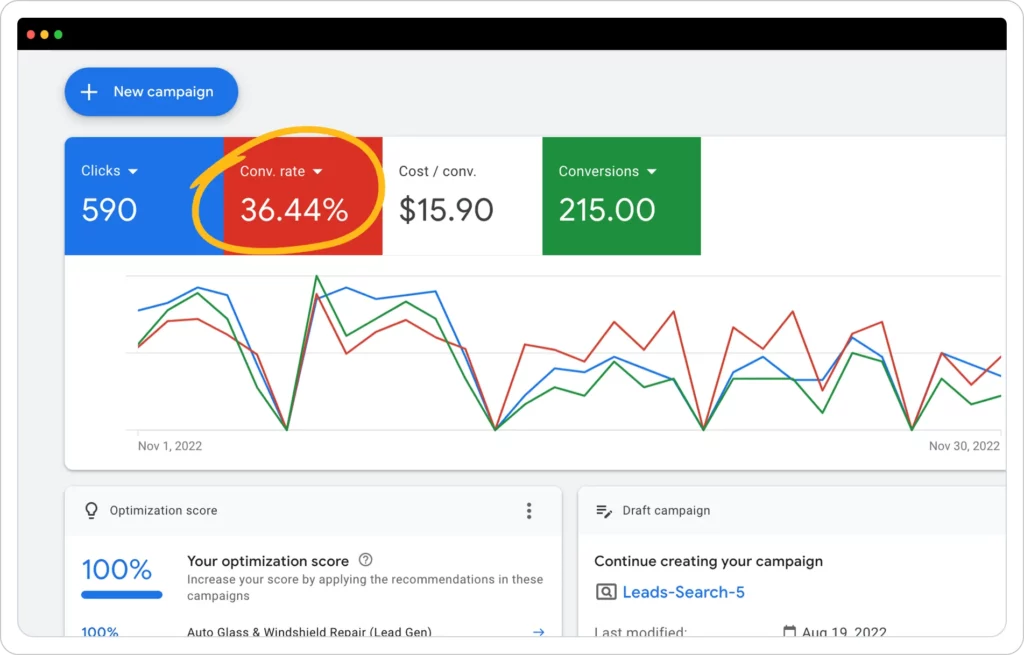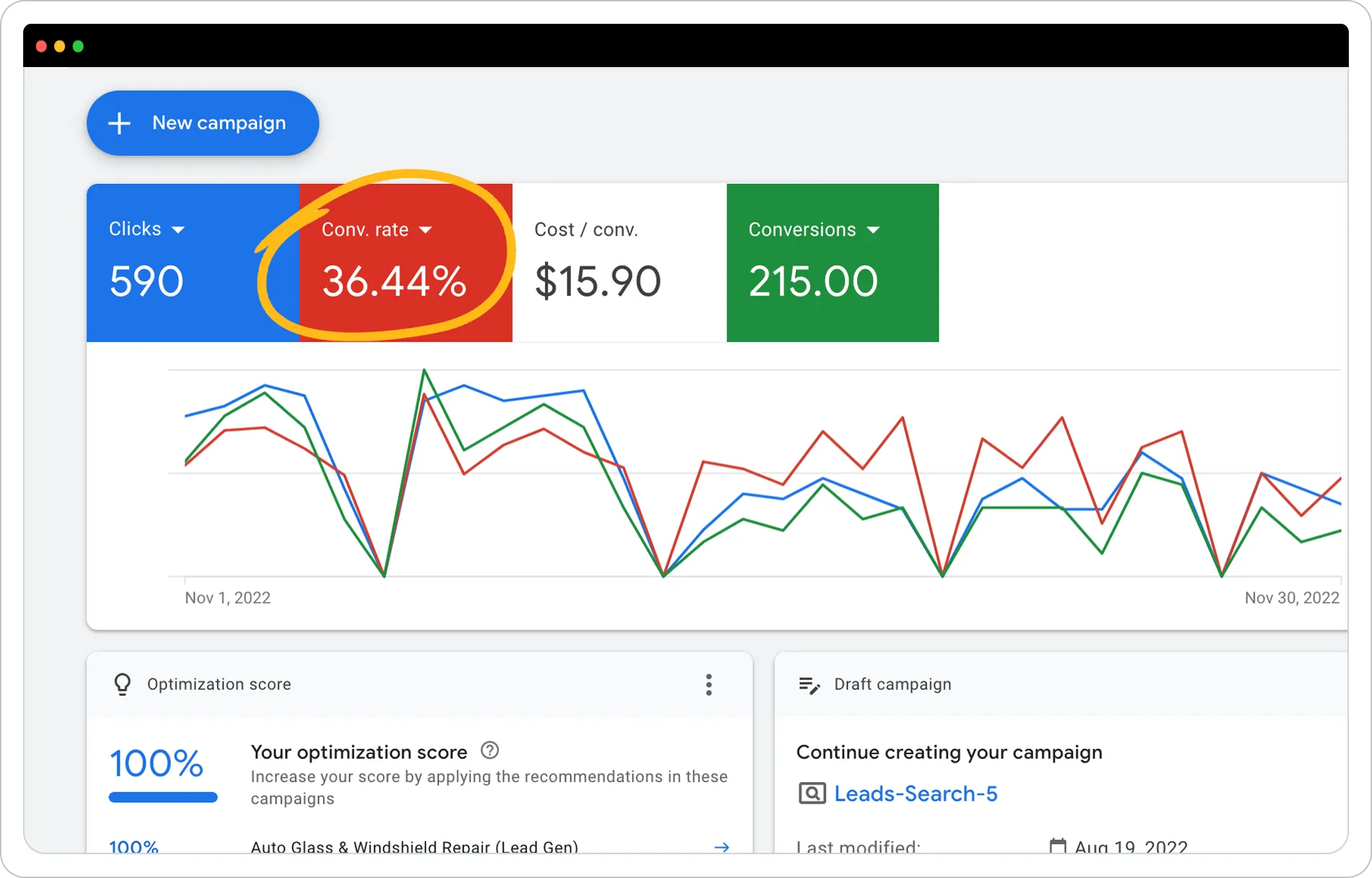 All of our clients get regular reports on how their campaigns are performing. If you have any queries about your ad report, we're just a phone call away.
It's Time to Get More Leads
Our PPC ads campaigns will help you grow and remain competitive. Get in touch today to start the process.