Google Ads For
Contractors
Clicks Geek is a U.S.-Based Google Ads agency focused on increasing sales and leads for contractors. We do this by driving quality traffic and delivering a superior landing page experience.
"Ed has invested thousands of painstaking hours into understanding the nuances of sales and marketing so his customers can prosper. He's a true professional in every sense of the word and someone I look to when I need advice."
How do you look for new contract business?
Promoting your business online can seem daunting, especially when digital marketing and Google Ads, formerly called Google AdWords, are not your strong suit. Besides setting up your Google Ads account, you still need to monitor and optimize it, a task that can take focus away from the many different contractor jobs you might have in your queue.
Though simply doing the basics already puts you ahead of some of your competitors, today's digital age needs you to do more than that if you aim to place your construction company in a profitable position. Google Ads can help you do that if you implement and manage it the right way.
With the right strategy, Google Ads allows contractors to connect in real-time with prospective customers looking for their services. You only pay when people click on your ad, which can direct visitors to your site or landing page, where you can encourage them to set up a consultation or generate a call to visit your site.
Ed's advice, information, and techniques have helped my business not only STAY OPEN these last few years, but GROW with consistency.
Take your business to the next level with a PPC agency that actually delivers.
HOMEBUILDER & CONTRACTOR ADS
When it comes to Google Ads, you need to understand a few essential concepts if you are to fully capitalize on the numerous benefits this online marketing platform offers business owners.
Keywords

The keywords you select determine when your contractor business' ad will show up on Google's search result pages. The more the keywords relate to the services your contractor business offers, the better the ad placement.

Targeting

The main question to ask yourself here is: What is your ideal target market? AdWords makes it possible for you to direct your marketing to a specific audience, categorizing them by their gender, location, age, or household income.<br
For instance, with location targeting, you can choose to have Google display your ads only to those close to the area in which you operate. This helps you avoid wasting your marketing budget targeting people who are outside the areas you service.

Quality Score

The quality score is a measurement Google uses to rank your ad and website based on the keywords on which you are bidding. Your quality score will also determine how much Google will charge you each time a potential customer clicks on your ad. The higher your quality score, the better placed your ads will be on Google's search results pages.

Landing Pages

Your landing pages are where you direct potential customers every time they click on your ad. How you set up your website goes a long way in determining your campaign's conversion rate. When it comes to your website, there are two main things you should always keep in mind:

Relevancy: Ensure the landing pages you have are relevant to the contractor services a potential customer searched for .

Call-to-Action: A call-to-action refers to the steps you would like users to follow once they make it to one of your landing pages. Do you want them to contact you, schedule a meeting, or subscribe to a mailing list? Whatever the intended action, make it clear to them. It is also best to avoid having more than one call-to-action on a single landing page.



Tracking and Monitoring

A Google Ads account needs a more hands-on approach if you are to achieve all your marketing goals. This is why tracking is crucial. Tracking conversions, for instance, allows you to see how effective your ads are. It makes it possible for you to know the number of people engaging with your ad content and answering your landing page's call-to-action.

Optimization

The information you receive through monitoring your Google Ads allows you to make certain changes to your campaign, optimizing your keywords and ads to improve AdWords performance.
Check to see if your territory is available still!
Signing up for a PPC ad account is simple. You don't have to hire a PPC agency to set up and manage your campaign, but most divorce attorneys and lawyers lack the time, tools, and expertise required to maximize ROI.
Client Testimonial
Praise
Steven Cortez
Ed's a great dude! PPC expert all the way. I've had a couple phone calls with him. Very helpful and down to earth.
Max Reznich
I have Robert Salvatore saved in my phone as "PPC Whisperer" for a reason. The man can do things with a Google Ads campaign that I've never seen before. Thanks again brother.
Daniel Kichen
These guys are so awesome that even if they can't help you they will refer you to somebody who can. That doesn't happen often, good people.
Jeremy Bolton
Just wanted to give Ed Stapleton at Clicks Geek a recommendation if any of you guys are looking to outsource your google ads campaigns. Double my clients conversions within a month and now have a VERY happy client! Thanks Ed...
Jacob Kettner
Quick shout-out to Robert Salvatore over at Clicks Geek. I was on a call with Mark Luckenbaugh yesterday bitching about a Google Ads campaign that wasn't converting well, and he suggested I talk to Robert. I hit him up yesterday in the afternoon, and by 8:30AM this morning he'd done a complete audit of the campaign and laid out actionable steps for me to take to improve both CTR and costs as well as how I'm tracking, and the way I'm targeting keywords.  I can honestly say I learned more about Google Ads from his audit than I did from the last Google Ads course I took.
Brant Scheifler
Quick tip of the hat to Ed and Robert on the PPC front. I sent them a PPC campaign a couple months back for one of my local clients. Theya re killing it both on CPC and CPL. I honestly hate managing PPC, and even though Rob would attest to me knowing more about Google Ads than him (actually not really he would never say that nor is it true), I prefer to not have to look at PPC campaigns whenever possible. So, just wanted to say that if you need a good PPC resource that's hand off I would check out these guys! Hope this helps someone that may be fed up with managing Google Ads or looking for a good source.
Find Out If Your Territory Is Still Available.
See what our
happy clients
have to say.
We're A Google Partner Agency
As a Google Partner Agency, we've joined the cream of the crop in PPC specialists. This designation is reserved for only a small fraction of Google Partners who have demonstrated a consistent track record of success.
Common Mistakes Contractors Make in Their AdWords Campaign and How a Google Ads Management Agency Can Help
Due to the essential and highly involved nature of tracking, monitoring, and optimization, these efforts can either make or break your entire marketing strategy. While some contractors choose to handle this independently, hiring a Google Ads management agency to oversee your campaign and offer you invaluable service is easily the better choice.
Google Ads management agencies help you create your marketing strategy, implement and monitor it, and optimize it in a manner that ensures you get the best possible results. Often, managing your pay-per-click advertising by yourself increases the chances of you making errors that could jeopardize your marketing efforts.
These are some of the errors that hiring a professional Google Ads management agency will help you avoid:
Inadequate Amount of Keywords
When setting up their Google AdWords campaign, many contractors forget to consider other ways their target keywords might be used. For instance, if roof is one of the target keywords you have set, users who search for anything to do with the word roof could see your ad, regardless of whether they are in your area or are looking for your services.
A Google Ads management agency will help you structure your marketing campaign in the right way, using the negative keywords field, for instance, to inform Google of the words with which you do not want your contractor business to be associated. The better structured your marketing is, the more high-quality leads you will get.
Inconsistent messaging between your ads and landing page easily leads to wasted clicks for which you will still have to pay. If your ad offers a discount on certain services but your landing page has no mention of said discount, a user will feel misled.
Though it might be tempting to advertise all the contractor jobs your company can handle, if your marketing is promoting a specific service, it would be inefficient to redirect users to your general service tab.
A professional AdWords management company will spend time helping you keep your ad, keywords, and landing page messaging consistent. This helps improve your website's SEO, increasing the traffic it receives.
Unless they turn their location tracking off, Google will provide users with location-specific search engine results regardless of whether or not they included their current location in their searches. A failure to include targeting in your campaign will mean that your ad will be seen even by those who are not in your area, resulting in wasted clicks.
Find Out If Your Territory Is Still Available.
Tracking through analytics is an essential part of succeeding in your Google Ads campaign.
We'll track the results from your ads campaign diligently and use them to measure the effectiveness of your campaigns. We'll set up call tracking and contact form tracking down to the keyword level to enable us to optimize your campaigns and drive more inbound leads.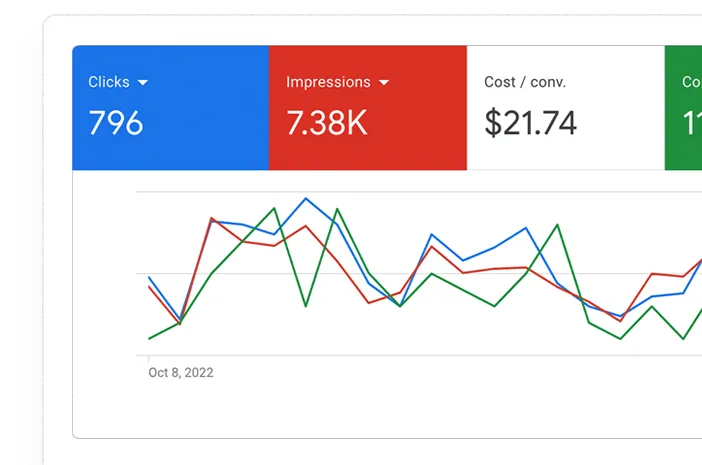 We offer unrivaled expertise and have a reputation for providing wildly successful results for our clients.
If you're in the employment law industry, make the most of your marketing dollars. Contact us at Clicks Geek today to get started with Google Ads or to have our team analyze your current campaign. Have any questions? Our friendly team is always happy to answer them and offer guidance to implement the right employment law marketing strategy.
Get Dedicated Tracking and Optimization with a Google Ads Management Agency
The amount of time you spend tweaking your AdWords campaign directly relates to how successful it will be. This, unfortunately, takes a ton of time and effort that you might not be in a position to set aside. With an AdWords Management agency, you are assured dedicated monitoring of the analytics involved with this PPC platform. The agency will look at keyword performance and conversion rates, making tweaks to optimize your marketing, offering you a greater return on investment.