Google Ads For
Bankruptcy Lawyers
Clicks Geek is a U.S.-Based Google Ads agency focused on increasing sales and leads for bankruptcy lawyers. We do this by driving quality traffic and delivering a superior landing page experience.
"Ed has invested thousands of painstaking hours into understanding the nuances of sales and marketing so his customers can prosper. He's a true professional in every sense of the word and someone I look to when I need advice."
How do you look for new clients?
Due to the economic damage caused by COVID-19, more people need the services of bankruptcy law firms. One of the quickest and most effective ways to let people in your locality know about your bankruptcy attorney services is pay-per-click (PPC) marketing through Google ads.
We have years of experience helping law firms increase their brand awareness, traffic, leads, and revenue through PPC legal marketing. Contact us today via phone or our contact form for a digital marketing strategy that makes you the first choice for bankruptcy law services in your area.
With the right strategy, Google Ads allows a bankruptcy lawyer to connect in real-time with prospective clients looking for their services. You only pay when people click on your ad, which can direct visitors to your site or landing page, where you can encourage them to set up a consultation or generate a call to visit your site.
Ed's advice, information, and techniques have helped my business not only STAY OPEN these last few years, but GROW with consistency.
Take your business to the next level with a PPC agency that actually delivers.
How Bankruptcy PPC Ads Work
Our team starts every PPC advertising plan by understanding the client's goals and target audience. We then perform keyword research to find the most popular search terms people used to find bankruptcy law services in our client's location and practice areas.
Our team starts every PPC advertising plan by understanding the client's goals and target audience. We then perform keyword research to find the most popular search terms people used to find bankruptcy law services in our client's location and practice areas.
For instance, if your firm is in New York and specializes in Chapter 7 bankruptcy, Chapter 13 bankruptcy, or any other bankruptcy chapter, we will identify the most relevant keywords for those services in your locality. Incorporating those keywords into your search engine marketing plan ensures that when a prospective client uses those search terms, your bankruptcy law firm website appears at the top of their search results.
Depending on the content of your ad copy, users will either dial the phone number in the ad or click on the advertisement, which will redirect them to your website. Note that with PPC, you do not have to pay for paid searches if potential clients reach you via phone calls without clicking on your ad.
The ad will run for as long as you want, and we can keep tweaking it for even better results. Aside from Google, PPC campaigns for bankruptcy lawyers are possible on Bing and other search engines.
The guys at Clicks Geek are SEM experts and some of the most knowledgeable marketers on the planet. They are obviously well studied and I often wonder from where and how long it took them to learn all this stuff. They're leap years ahead of the competition and can make any industry profitable with their techniques, not just the software industry. They are legitimate and honest and I recommend him highly.
Bankruptcy Law Practice Search Engine Marketing Strategies
Depending on your target audience, budget, and how fast you want results, we will use one or more of the following paid search marketing strategies:
Search Ads

Search ads place your website at the top of Google result pages when people perform searches for the keywords used in your advertisement. To generate leads and a high conversion rate, we will bid for the most popular search terms people in your area used to find bankruptcy attorneys. If we offer to pay more than other users who are using those bankruptcy keywords, Google will place your ad above theirs in search results.

Google Ads

Aside from search engines, we advertise bankruptcy lawyers on other Google platforms, such as Gmail, YouTube, Maps, and so on. YouTube is the most popular option because it gives you the chance to win over prospective clients with engaging videos.

Google PPC

We use Adsense to market bankruptcy firms on high-authority websites that receive lots of traffic. When a person clicks on the ad, it will redirect them to your bankruptcy attorney firm website. It costs less than the other two search engine advertising options but offers fewer features for targeting specific audiences.

If you're having trouble picking the right paid search promotion strategy for your firm, contact us today for answers to all your questions.
Check to see if your territory is available still!
Signing up for a PPC ad account is simple. You don't have to hire a PPC agency to set up and manage your campaign, but most bankruptcy attorneys and lawyers lack the time, tools, and expertise required to maximize ROI.
Find Out If Your Territory Is Still Available.
See what our
happy clients
have to say.
Is PPC Better than SEO for Bankruptcy Lawyers?
Search engine optimization (SEO) is the ideal online marketing strategy for long-term organic traffic, but it takes a long time to deliver significant results. Our team sets up search ad campaigns that yield tangible results within hours of launching.

While several people skip ads in search results, prospective clients with pressing bankruptcy cases are in a hurry to get help. They want immediate answers and will click on the first relevant search result they see, regardless of being an ad. Since the people clicking on your search ads are looking for a bankruptcy lawyer, you will receive qualified leads that are more likely to convert into customers.
We're A Google Partner Agency
As a Google Partner Agency, we've joined the cream of the crop in PPC specialists. This designation is reserved for only a small fraction of Google Partners who have demonstrated a consistent track record of success.
Tracking through analytics is an essential part of succeeding in your Google Ads campaign.
We'll track the results from your ads campaign diligently and use them to measure the effectiveness of your campaigns. We'll set up call tracking and contact form tracking down to the keyword level to enable us to optimize your campaigns and drive more inbound leads.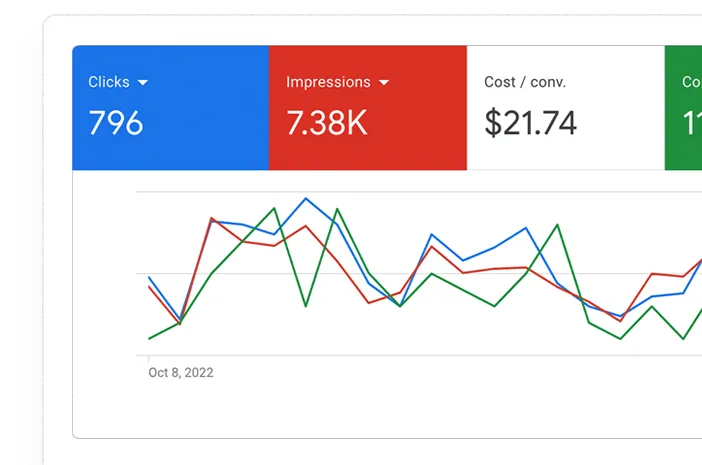 We offer unrivaled expertise and have a reputation for providing wildly successful results for our clients.
If you're in the bankruptcy law industry, make the most of your marketing dollars. Contact us at Clicks Geek today to get started with Google Ads or to have our team analyze your current campaign. Have any questions? Our friendly team is always happy to answer them and offer guidance to implement the right bankruptcy law marketing strategy.
What Factors Influence Search Engine Advertising for a Bankruptcy Law Firm?
Three major factors determine the success of a bankruptcy attorney PPC campaign: quality score, keyword management, and the landing page experience. A low-quality score means the landing pages attached to your ads are irrelevant, load slowly, or lack the right search terms. If your score is low, the search engine will charge a higher cost per click (CPC).
Using the best keyword and top-notch ad copy means nothing if the landing page attached to your advertisement cannot convert visitors. Our team optimizes bankruptcy law firm landing page copy by improving the page's content and adding a potent call-to-action (CTA). The CTA is crucial for boosting your site's conversion rate and making sure visitors take the actions you desire of them.
Through keyword management, we help bankruptcy attorneys spend less on search terms and get impressive traffic and new clients.
Best Practices for Bankruptcy Attorney Search Engine Advertising
Compared to other industries, search engine advertising for a bankruptcy lawyer and other legal practitioners is slightly different. For instance, a law firm website has to avoid using certain words or risk facing a penalty from the state bar. Our Google-certified team will get your law firm ahead of its competitors by adhering to the following best practices:
Get in Touch with Us for Search Engine Marketing for Bankruptcy Attorneys
Let our certified ads team provide you with bankruptcy law firm PPC marketing services that attract more potential clients. Our conversion-focused and problem-solving approach to online attorney marketing saves you money but delivers more online visibility, traffic, leads, and conversion rates.
After launching your campaign, we make sure to monitor its performance and provide you with regular reports. If any aspect of the campaign is underperforming, we will tweak it for better results.
Contact our bankruptcy lawyer Google ad experts today for a free consultation and see how we will put your firm ahead of the competition.
Client Testimonial
Praise
Steven Cortez
Ed's a great dude! PPC expert all the way. I've had a couple phone calls with him. Very helpful and down to earth.
Max Reznich
I have Robert Salvatore saved in my phone as "PPC Whisperer" for a reason. The man can do things with a Google Ads campaign that I've never seen before. Thanks again brother.
Daniel Kichen
These guys are so awesome that even if they can't help you they will refer you to somebody who can. That doesn't happen often, good people.
Jeremy Bolton
Just wanted to give Ed Stapleton at Clicks Geek a recommendation if any of you guys are looking to outsource your google ads campaigns. Double my clients conversions within a month and now have a VERY happy client! Thanks Ed...
Stuart Trier
Ed & Rob over at Clicks Geek are great guys and do really good work. If you are looking for white label PPC management. They are honest and will tell you if they can't get you the results you are looking for... Highly endorse these guys.
Josh Nelson
I've heard nothing but good things about Ed Stapleton and his services... if you are looking for someone to help you manage your paid search campaigns he could be a great resource for you.