Google Ads For
Auto Transport
Clicks Geek is a U.S.-Based Google Ads agency focused on increasing sales and leads for auto transport companies. We do this by driving quality traffic and delivering a superior landing page experience.
"Ed has invested thousands of painstaking hours into understanding the nuances of sales and marketing so his customers can prosper. He's a true professional in every sense of the word and someone I look to when I need advice."
Google Certified Marketing Professionals
Whether you need to increase lead generation, promote your website to a larger audience, or establish your business as the solution to any problem involving cars, our team of advertisers is ready to help you with the solution to all your business needs.
At ClicksGeek, we're proud to be a Google Premier Partner Agency, which means we have the knowledge, experience, and consistently successful projects to be recognized as one of the best advertisement agencies partnered with Google.
Our team is made up of experienced marketing professionals who are certified in both Google and Bing Ads to create a more diverse way for your content to reach more customers in your market. To help us keep up to date with the latest search engine optimization and pay-per-click techniques and strategies, our employees are all enrolled in continuing education courses in lead generation and other effective marketing tips.
PPC or 'Pay-Per-Click' marketing is an internet marketing strategy that leverages Google's search engine platform to put you directly in front of your customers at the moment they are searching Google for your exact product or services.
At Clicks Geek, a Partner Google Ads Management Agency – we can help you. Our team of experts has extensive experience helping auto transport companies get more qualified site traffic and convert more site visitors into leads and clients. We're just a phone call away. Reach out to us for a custom plan!
Ed's advice, information, and techniques have helped my business not only STAY OPEN these last few years, but GROW with consistency.
Take your business to the next level with a PPC agency that actually delivers.
Google Gallery Advertising
Google partners, like our company, have access to ad formats that allow for a better way to reach and capture leads and that are especially effective for customers of auto transport brokers. For example, Google Gallery lets you take advantage of the nearly 120,000 monthly searches for websites for cars and related services by bringing your images and website to local business results and social media.
Professional photos and graphics that showcase your product are a way to grab the attention of possible leads. They also give your company even more space at the prime real estate at the top of the search result page.
The advertisement also includes a short description of your company's offers and a call-to-action button to drive relevant industry traffic to your website. This is highly effective in capturing the attention of high-intent buyers and converting leads by providing directions to your business or listing promotional rates. 
Google analytics show that these ads show an improvement in lead click rate on both desktop and mobile platforms and many drops in cost per lead.
The guys at Clicks Geek are SEM experts and some of the most knowledgeable marketers on the planet. They are obviously well studied and I often wonder from where and how long it took them to learn all this stuff. They're leap years ahead of the competition and can make any industry profitable with their techniques, not just the software industry. They are legitimate and honest and I recommend him highly.
Google Local Ads for Car Shipping
Google Local Ads provides a way to promote your business through the mobile website and app for Google Search Network, Google Display Network, Google Maps, YouTube, and Facebook. Using this tool, we can publish local search ads aimed at drawing more foot traffic and offline conversions to your business.
We use the format's automated machine learning to optimize the bidding of SEO terms and placement of ads and assets to contribute to industry-relevant consumers at your physical location.
Constant updates and new features create a way for advertisers to be visible to possible customers when they search online for related vehicle industry content, even without store visits measurement. We can promote your location to users of Google Maps in the search suggestions. This method is particularly effective in securing clients because of the high purchasing intent indicated by searching for your services while on the go, promoting your local offers with answers to a lead's questions.
According to Google, these local campaigns can see incremental returns more than four times the amount spent on the ads. We use the information on your Google My Business account to create an advertisement that includes your business's location, phone number, and sales promotions.

Find Out If Your Territory Is Still Available.
See what our
happy clients
have to say.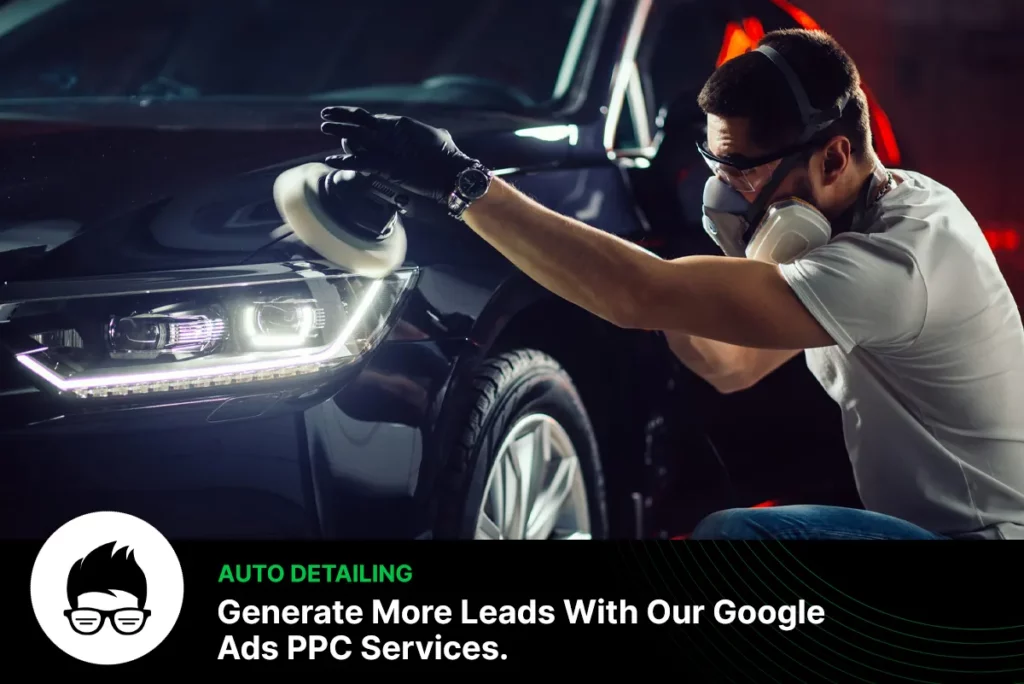 We're A Google Partner Agency
As a Google Partner Agency, we've joined the cream of the crop in PPC specialists. This designation is reserved for only a small fraction of Google Partners who have demonstrated a consistent track record of success.
Updating Your Google My Business Profile
While you almost certainly have a Google My Business profile, you may not have known that there's an increased emphasis on these listings when deciding local Google search results. That means using Google My Business to control brand awareness in the auto transport industry is more important than ever. Basic contact information and service descriptions are standard in increasing your dealership's online visibility, and website traffic can get even better results from regular updates and posts.
Recent posts on your profile appear alongside your listing on search results and improve its ranking, giving us an opportunity to help you take up more advertising content with a short post including a call-to-action button directing customers to your website resources. Our company can create updates that advertise new offers to bring attention to limited promotional events. We can even utilize short visual posts to make your business stand out among the other competitors populating search results.
Tracking through analytics is an essential part of succeeding in your Google Ads campaign.
We'll track the results from your ads campaign diligently and use them to measure the effectiveness of your campaigns. We'll set up call tracking and contact form tracking down to the keyword level to enable us to optimize your campaigns and drive more inbound leads.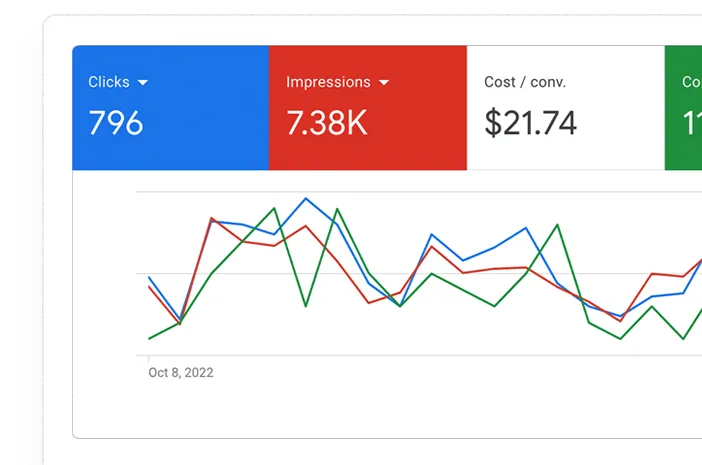 We offer unrivaled expertise and have a reputation for providing wildly successful results for our clients.
If you're in the auto transport industry, make the most of your marketing dollars. Contact us at Clicks Geek today to get started with Google Ads or to have our team analyze your current campaign. Have any questions? Our friendly team is always happy to answer them and offer guidance to implement the right auto transport marketing strategy.
Proven Campaigns Tailored to Your Auto Transport Broker Company
Extensive Keyword Research

Instead of gambling on experimental landing pages or marketing strategies, we have Google Ads campaigns that have been developed with thousands of dollars and years of experience. We add your company's personal touch to simple landing pages and business accounts on social media such as Facebook that are guaranteed to attract buyers within a few hours of updating.

Then, we take successful car service campaigns and use your information and SEO techniques to deploy it in your targeted location for the best results. Our landing pages have a conversion rate of more than 50%, resulting in over 50 leads for every 100 visits to your website. To optimize it even further, we use automatic bidding analysis to determine which keywords convert forms and calls into successful purchases. Underperforming elements are removed or decreased and we increase the bids of successful ad copy.

We deliver weekly reports on your campaign's account activity as well as comparisons between reports so you can see how our regular adjustments optimize your returns on PPC advertisements. To see your piece of the multimillion-dollar profits to be found in the transport industry, contact us today so customers will see you first at the top of their Google search results.
Client Testimonial
Praise
Steven Cortez
Ed's a great dude! PPC expert all the way. I've had a couple phone calls with him. Very helpful and down to earth.
Max Reznich
I have Robert Salvatore saved in my phone as "PPC Whisperer" for a reason. The man can do things with a Google Ads campaign that I've never seen before. Thanks again brother.
Daniel Kichen
These guys are so awesome that even if they can't help you they will refer you to somebody who can. That doesn't happen often, good people.
Jeremy Bolton
Just wanted to give Ed Stapleton at Clicks Geek a recommendation if any of you guys are looking to outsource your google ads campaigns. Double my clients conversions within a month and now have a VERY happy client! Thanks Ed...
Jacob Kettner
Quick shout-out to Robert Salvatore over at Clicks Geek. I was on a call with Mark Luckenbaugh yesterday bitching about a Google Ads campaign that wasn't converting well, and he suggested I talk to Robert. I hit him up yesterday in the afternoon, and by 8:30AM this morning he'd done a complete audit of the campaign and laid out actionable steps for me to take to improve both CTR and costs as well as how I'm tracking, and the way I'm targeting keywords.  I can honestly say I learned more about Google Ads from his audit than I did from the last Google Ads course I took.
Brant Scheifler
Quick tip of the hat to Ed and Robert on the PPC front. I sent them a PPC campaign a couple months back for one of my local clients. Theya re killing it both on CPC and CPL. I honestly hate managing PPC, and even though Rob would attest to me knowing more about Google Ads than him (actually not really he would never say that nor is it true), I prefer to not have to look at PPC campaigns whenever possible. So, just wanted to say that if you need a good PPC resource that's hand off I would check out these guys! Hope this helps someone that may be fed up with managing Google Ads or looking for a good source.